Trump's medical sparks online 'girther' movement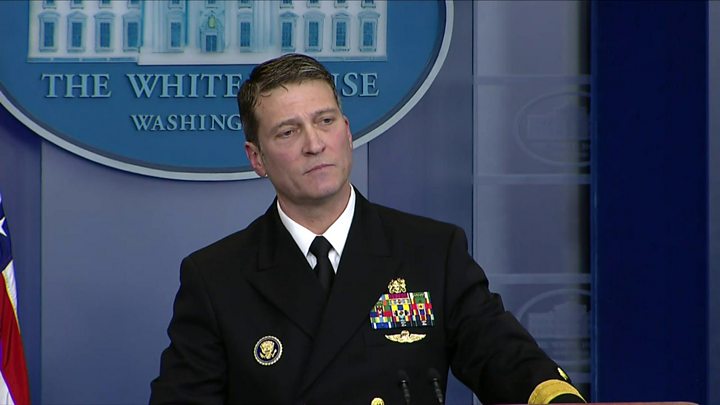 US presidents regularly undergo physical examinations. It is not remarkable. However, the results of Donald Trump's recent medical check-up have sparked an online conspiracy theory - the girther movement.
According to the official medical report, released by the White House on 16 January, President Trump stands at 75 inches (6ft 3in; 1.9m) and weighs 239lb (17st 1lb; 108kg).
But the girther movement, propelled mainly by critics of the president, posits that Mr Trump is shorter and heavier than the report suggests.
This particular presidential physical has received increased interest after questions were raised over Mr Trump's mental health and supposed unhealthy diet.
You may also like:
There have been more than 56,000 tweets about the girther movement since late on 16 January, with one of the first tweets to use the term posted by political commentator Chris Hayes.
One of the most popular girther tweets claims to show a photograph of Mr Trump's driving licence listing the president as 6ft 2in (74in; 1.88m), an inch shorter than reported by the White House physician.
An image of his driving licence appeared in a 2016 article on news website Politico.
A number of social media users posted photos of Mr Trump standing next to well-known figures in a bid to compare their heights.
Others have been sharing photographs of professional athletes with a similar height and weight to the president, pointing out the disparity in their appearance.
However, many have highlighted that muscle is heavier than fat, which may make comparisons unfair.
Others online have questioned the independence of the doctor overseeing the medical examination. Dr Ronny L Jackson is the current Physician to the President and oversaw two of former President Obama's medical examinations.
Dr Jackson said in a press conference that Mr Trump has "incredible genes" and if he had a healthier diet over past 20 years "he might live to be 200".
Guardians of the Galaxy director James Gunn used the #girther hashtag to offer to donate $100,000 (£72,470) to charity if the president agreed to be re-weighed by a different doctor.
While much of the discussion online was sceptical of the claims made in the president's medical report, some defended Mr Trump and slammed the girther movement.
Referring to previous calls for the president to release his tax returns, one twitter user questioned if Mr Trump's critics would ever be satisfied with the evidence produced by the current administration.
Some suggested the girther movement was hypocritical for fat-shaming the president.
And former director of the US Office of Government Ethics, Walter Shaub Jr, asked whether people should be making jibes about President Trump's physical attributes.
The term girther is an apparent nod to the well-established "birther' movement", made up mainly of right-wing activists who opposed President Obama, with Mr Trump as its most public face.
Birthers questioned the former president's place of birth and his eligibility to hold high office.
It has been widely derided as a racist conspiracy.
The birther theory was pushed hard by Mr Trump, and resulted in Mr Obama releasing his birth certificate to the public in 2011.