Child pregnancies reignite sexual abuse debate in Turkey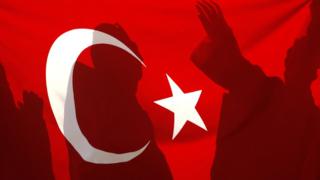 News reports of a spate of underage pregnancies in Turkey have sparked anger online.
One hundred and fifteen girls, including 39 from Syria, have been treated at a single hospital in Istanbul in less than five months.
News website Hurriyet Daily reported 38 girls became pregnant before the age of 15, and 77 before turning 18.
The age of consent is 18 in Turkey and all cases of pregnancy under the age of 15 are classified as child abuse.
You may also like:
A hashtag, which translates as 'You can't cover up the abuse of 115 children', has been used more than 47,000 times since Wednesday.
Many are sharing a photograph allegedly showing a redacted list detailing the ages of some of those admitted.
Most social media users expressed their sadness so many young girls had been the victim of abuse.
"Let's all please live in a world where children are just children," pleaded one response.
The story has also reignited wider debates about sexual abuse and women's rights.
Referring to previous assertions that women should not laugh in the street and should dress modestly, one user suggested the focus should shift away from women's behaviour and onto their protection.
"Instead of meddling in the laughter and the clothes of underage girls, learn to protect them," read the tweet which was shared and liked more than 3,700 times.
One twitter user attempted to highlight the wider issues faced by Syrian girls in the country.
"Apparently many of the children were Syrians," she wrote. "I know from where I work that even when we inform the police about 15 year old girls who have given birth, all they do is take statements and leave. The law does not apply to them."
Turkey has received millions of refugees from neighbouring Syria since the outbreak of war forced many to flee.
Much of the debate online followed established schisms in Turkish society between conservative religious groups and the secular.
One user posted photos of women's rights marches in the country, and blamed the secular opposition Republican People's Party (CHP) for encouraging immorality.
"You fill the minds of your girls with immoralities, and then you blame the government. The left-minded and #CHP, this is your doing."
Prominent Turkish writer Umit Kivanc used the hashtag to call for unity in the country over the issue of child abuse.
"There is no future for a people who cannot come together on this kind of subject," he posted.
Hurrieyt Daily has also reported the hospital in question is currently under investigation for failing to pass on information regarding the pregnancies to the authorities.