No, Trump did not tweet 'Dow Joans'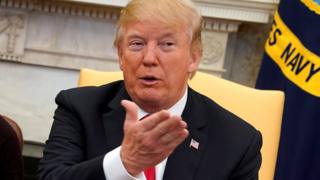 US President Donald Trump has been the victim of a fake tweet which went viral overnight.
The tweet, which suggested the sitting president should be "shot into the sun" from a cannon should the "Dow Joans" drop significantly, was posted minutes after US stocks suffered their worst fall for more than six years on Monday.
Since he took office in January 2017, President Trump has tweeted a number of times about the increasing value of US stock markets, highlighting the gains as evidence of economic improvement under his presidency.
However, social media users often look through Trump's previous tweets to find statements and claims he made in the past which contradict his current stance.
There is even a Reddit index called r/TrumpCriticizesTrump where users flag up old Trump tweets and post inconsistencies.
So when British author Shaun Usher posted a screenshot of what looked like a tweet from the president on Monday, using Trump's characteristic style and dated from February 2015, it did not take long to generate interest.
Almost 20,000 people retweeted Usher and 41,000 have liked his tweet in 14 hours. It, and his string of tweets in response have generated tens of thousands of comments.
Fifteen minutes after his initial post, Usher expressed his surprise that many people thought the tweet was "genuine".
Ten minutes after that, he realised his tweet had gone "everywhere" and later described the situation as "wild".
Usher said the Washington Post and fact-checking site Snopes have been in touch with him to discuss the tweet.
You might like this:
Many people are criticising Usher for sharing his fake tweet, but he said the tweet went beyond his control and deleting it "felt wrong".
While others are saying the tweet is "fake," and that Usher has added to the confusion around "fake news".
However, some appreciated the point they believe Usher's tweet was trying to prove.
Twitter user @NovelBookworm said: "The best part is how easily we all believe that Trump said something stupid a couple years ago."
"All those bizarre and true Trump tweets are (mostly) still up," posted @creaturemonster.
The BBC has contacted Usher for comment.