After Florida shooting, people are giving up their weapons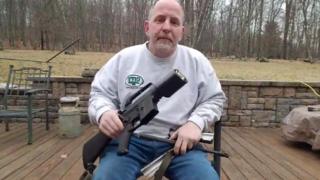 About 40% of Americans say they have a gun. Almost 40% of Americans defend their right to have a gun. But on Saturday, Scott Pappalardo sawed his gun into pieces and he's not the only one.
After the shooting at a school in Parkland, Florida, last week where 17 people died and many more were injured, teenage survivors have rallied under the #Never Again movement to lobby for an end to gun violence.
They are demanding change and some gun owners have heeded the call.
Mr Pappalardo's video of him cutting up his AR-15 assault rifle - the same model used by gunman Nikolas Cruz in Florida and the most popular gun in America - has been watched 22 million times on his Facebook account. "My drop in a very large bucket," he wrote.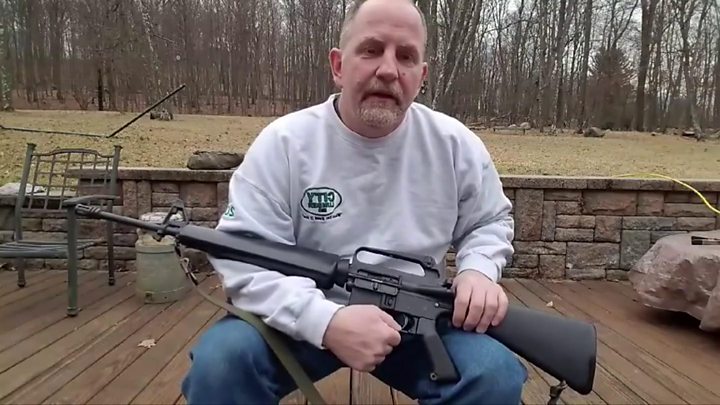 "Seeing the events in Parkland, Florida deeply affected me," he told the BBC from New York where he lives.
"I had planned on selling it last year but I was always worried about getting a phone call from the police telling me that it had been used in a deadly shooting.
"The Sandy Hook shooting was horrible but the surviving children couldn't speak out.
"With Florida, these high school students are speaking out. Seeing the pain in their faces and hearing the stories out of their mouths made me change my mind."
Mr Pappalardo said he still supports the Second Amendment and would be keeping his other guns but added: "I was quite fond of the rifle. It was like taking my sick dog to the backyard and having it put down.
"I would love for others to give up their weapons but don't cut them up, because I found out that's a crime. I'd recommend taking them to a police station."
Using the hashtag #OneLess, his action has inspired others.
On Tuesday Debbie Lentz posted a photograph on Facebook of her AR-15 weapon in pieces, writing "Thank you, [Scott Pappalardo], for showing me what I needed to do. I've had this gun for many years. I could not live with myself if it had ever been used to injure or kill an innocent person".
Michael T. Murphy did the same on Tuesday, posting his video with hashtags #NotMyAR and #OneLess.
"I don't think that my right to own this weapon trumps the right of a child's life or an adult's life. I don't think our government is doing enough to remove this type of weapon from society," he said before cutting the rifle into pieces with an electric saw.
You might also be interested in:
Twitter user Will Bailey handed his gun into the local police station after his daughter learnt about the Florida shooting at school. "Please let's don't anymore," she said to him, when he told her he owned a gun.
His tweet has been liked more than 23,000 times since he posted it on Wednesday.
Another gun owner, Ben Dickman, posted on Friday that he handed in his rifle to his police station in Tamarac, Florida, just seven miles from Parkland.
Whether individual pledges will turn into long-term change remains to be seen.
Although their actions have been widely applauded on social media, many were sceptical and others continued to assert that their right to own guns is inalienable.
"My wife and I own 9mm handguns and a 380....I shared their [location] with my oldest so they also could be used to protect our family if need be," one Twitter user Steve Gladfelter commented.
On Tuesday President Donald Trump signed an order to ban bump-stock devices which enables a rifle to shoot hundreds of rounds a minute, and was used by a gunman to kill 58 people at a Las Vegas concert last year.
But the issue remains politically divisive and gun-owners' rights are constitutionally protected by the Second Amendment. On Tuesday the Florida state legislature rejected a ban on assault weapons, as Parkland survivors watched on.