Barnaby Joyce: The revenge of Johnny Depp's dogs
By Paul Harrison
BBC UGC and Social News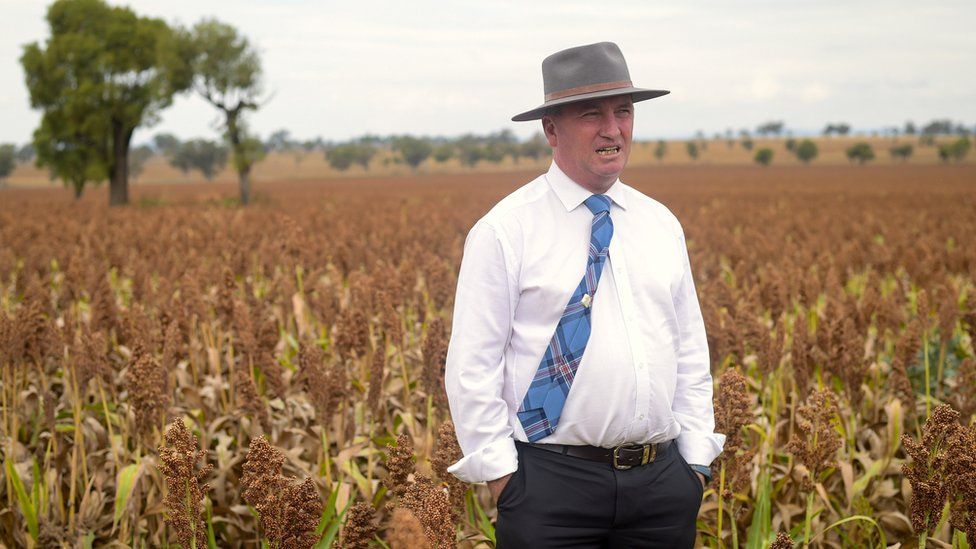 Australian Twitter users have been making fun of Barnaby Joyce, particularly his role in the "War On Terrier," after he announced he will resign as the country's deputy prime minister.
He gained international notoriety in 2015 after he spoke about the Australian government's quarantining and seeking the removal - or possible extermination - of pet dogs brought to Australia by Hollywood stars Johnny Depp and Amber Heard.
Say what you will about him, there will never be a greater moment in the news business than the morning we woke to the news that Barnaby wanted to kill Johnny Depp's dogs.

— Neil McMahon (@NeilMcMahon) February 23, 2018
The couple, who are now divorced, were accused of not declaring their dogs to customs officials when they flew into Queensland by private jet.
The dogs were eventually sent back to the US.
You might also like this:
Some users are hoping Ms Heard and Mr Depp have something to say about the resignation.
Icing on the cake would be a bunch of flowers from Johnny Depp or Amber Heard #Barnaby

— Sonia B (@soniarailb) February 23, 2018
It's not just about dogs.
He said: "This is never about me. It's about the person in the weatherboard and iron, something that manifestly expressed what the National Party is about."
This was misheard as "weatherboard nine". The term was widely used across Australian social media as people tried to figure out what does it meant.