Gus Kenworthy's dog adoption in South Korea sparks debate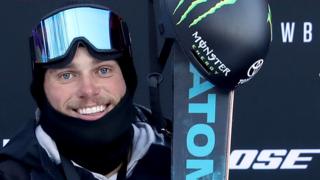 US Olympic skier Gus Kenworthy has sparked a debate on social media after 'saving' a puppy from a South Korean dog meat farm.
The athlete posted a picture on Instagram of himself with his partner Matt and their new pet, alongside a statement calling for greater awareness of "the inhumanity of the dog meat trade".
He said that animal protection organisation, Humane Society International, would find homes for all 90 dogs rescued from the farm, which has been permanently shut down.
You may also like:
Kenworthy's Instagram post has been liked over 180,000 times, and has sparked a debate about people from the West imposing their ideals upon Eastern society.
Critics include US-based journalist Joon Lee, who noted that dog was not commonly consumed in South Korea, and not on the scale of other meats that are eaten in the US.
Lee later commented that Kenworthy's post "puts a strong spotlight on a dying stereotype" which is "unfair and misrepresentative of culture".
Many people joined the debate, with one person 'calling out' the Olympian for "neo-colonialism at its finest":
Another Twitter user agreed, asking if Kenworthy would "protest the appalling farming conditions in America too".
But others have come to the skier's defence, including one Twitter user who asked why people were being so critical:
Kenworthy himself agreed with comments about the size of the dog meat trade in South Korea versus the wider meat trade in the US, citing it as the reason that there is "an opportunity to make real change".
This is not the first time that Gus Kenworthy has returned home from a Winter Olympics with a new furry friend.
The slopestyle skier may have won silver in Sochi 2014, but he also won hearts for his devotion to the city's dogs.
The Russian Olympic host city's problem with stray dogs had been well documented in the build-up to the Games, and Kenworthy delayed his homecoming to try to bring one dog and her four puppies back with him.
Two of the dogs have since become social media stars and have an Instagram page devoted to them run by Kenworthy's friend and photographer Robin MacDonald.