Black Panther style 'repatriation specialist' required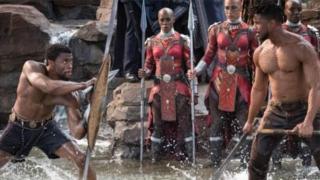 Disclaimer: There are Black Panther spoilers in this article.
How would you like to be the real-life Black Panther character Erik Killmonger who retrieves artefacts that were taken from his country?
The Smithsonian's National Museum of the American Indian is advertising for a repatriation research specialist, and one of its curators posted the job details and used an image from the film of Killmonger known for 'liberating' museum art.
The successful candidate will spend their time returning museum artefacts to tribal nations and indigenous communities.
One Twitter user spotted the nod to the box office hit.
You may also like:
Black Panther is a superhero film in the Marvel Cinematic Universe with a predominantly black cast, which has won rave reviews for its portrayal of Africa through the fictional country of Wakanda.
Killmonger, played by Michael B Jordan, is introduced as the film's villain in a scene where he tells a British museum curator that the artefacts they have are not theirs to keep and that they were stolen from Wakanda.
Killmonger later takes the artefacts, echoing the act of repatriation.
One person on the social media platform tumblr said they were "delighted by the scene", adding that "more museums need to hop onboard with repatriation efforts".
This ignited a discussion on social media, with one user saying the film shows that "there's something so insidious about making money (directly or not) from something that was so often taken forcefully from another culture", and another asking if "we need to do a Killmonger in reality".
Another tumblr user said they "love that this movie called out the British Museum", referencing a long-standing debate over the ownership of the Elgin Marbles, which were removed from the Parthenon in Greece in 1801 and have a permanent residence in London.
But the work of a real-life Killmonger may be more complex than that portrayed in the film.
The job advert states that applicants should have a "broad knowledge of Native American culture, history, and protocols" and will need to "research, write, and critically analyze relevant data into a well-organized, written, and reasoned repatriation report".