The double life of a teacher and her white nationalist podcast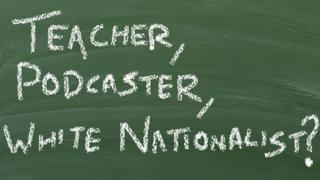 A Florida teacher has been "removed from the classroom" after it was discovered she had a double life hosting a white nationalist podcast.
By day, Dayanna Volitich taught social studies at Crystal River Middle School in Florida. By night, the 25-year-old took on the pseudonym Tiana Dalichov and presented a podcast voicing white nationalist rhetoric.
In an episode from the Unapologetic podcast - which at the time of writing is accessible online - a guest calls for white supremacist teachers in schools and Ms Volitich as Tiana Dalichov replies: "I'm absolutely one of them."
You may also like:
The local school governing body, Citrus County School District, stated on Facebook that Ms Volitich has been "removed from the classroom" while they investigate.
And according to local news reports, a statement has been released on behalf of Ms Volitich describing the podcast as "political satire and exaggeration", and adds "none of the statements released about my being a white nationalist or white supremacist have any truth to them, nor are my political beliefs injected into my teaching of social studies curriculum".
On Twitter, Tiana Dalichov courted controversy. In tweets which have since been deleted, she claimed that "Islam's entire ideology is literally built on violence" and says she was once banned from Twitter for "educating people on the horrors of Islam".
In an episode called Growth of Islam from her podcast, Ms Volitich - under the Tiana Dalichov pseudonym - calls it "scary" that "your political opinions all of a sudden have so much influence over your job", adding: "If you say something against Islam, and someone gets offended by what you have said, your job is literally on the line and oftentimes you will lose it."
Ms Volitich appeared to be concerned that she was correct with this assertion, as she attempted to delete all evidence of Tiana Dalichov online, including removing her Twitter account and the podcast's website.
But after a Huffington Post article discovered Ms Volitich and Dalichov to be the same person, people began sharing archived screenshots from the Dalichov account on social media, including a photo from Dalichov's Twitter profile besides Ms Volitich's official photograph on her school's website.
A popular comment on Reddit, read: "Institutes of education are no place for this slavery-era rhetoric and I hope she is quickly removed from employment," and the poster called for other Reddit users to "create change" by contacting the school.
Other users reacted with anger as they called for Ms Volitich to be sacked, including one user whose post was liked over a thousand times.
But some users defended Ms Volitich, with one person calling it a "violation of our constitution" to sack her, while another asked: "So once you become a teacher you're not allowed an opinion?"
A third person supported the integrity of Ms Volitich's teaching and that she has been honest about her views.
While another on Facebook who claimed she went to school with Ms Volitich called her "sweet and very kind" and added, "it's hard for me to believe this is the same girl".