RuPaul apologises after trans drag queens comments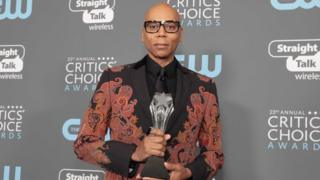 Should a transgender person be allowed to compete on RuPaul's Drag Race, a reality show searching for a drag superstar?
This is the question that has caused controversy after RuPaul admitted in a Guardian interview he would "probably not" accept a person who has transitioned gender competing on the show.
A backlash ensued on social media as fans of the show and former contestants chimed in on the debate, and RuPaul has since apologised in a tweet which has been liked over 26,000 times.
You may also like:
RuPaul's Drag Race is broadcast internationally and is currently airing its third All Stars season, ahead of season 10 at the end of March.
Critics of RuPaul's comments include Sasha Velour, the current reigning champion of the show.
Velour's post was well received on Reddit's subsection dedicated to the show, where one user praised the 2017 winner for having the "rebellion and guts to speak up when it's aimed at RuPaul while you're current reigning".
People in the RuPaul's Drag Race subreddit were initially critical of the host, with many praising the former contestants such as Velour for their comments.
Following the apology, some fans praised RuPaul for his contrition, with one user saying they were "very proud" of the drag icon, and another saying "this is a step in the right direction".
Outside of Reddit, other former contestants joined the conversation, with Season 2 contender Tatianna tweeting "drag is for everyone," while All Stars contestant BenDeLaCreme spoke about having a partner who is trans.
Some Twitter users felt RuPaul did not need to apologise for his original comments, with people drawing a line between drag and trans.
Some agreed while others tried to establish where the differences may be between drag performance and trans identification.
In a second tweet, RuPaul clarified that despite his original comments, the programme has never discriminated against trans contestants by writing: "The only thing we've ever screened for is charisma, uniqueness, nerve and talent, and that will never change."
And in a post liked more than 6,000 times, Mic journalist Evan Ross Katz tweeted a list of former competitors who would not be allowed to compete if RuPaul stood by his original comments.