McDonald's Women's Day tribute labelled 'McFeminism'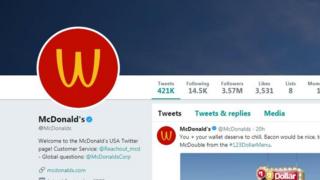 A positive way to mark International Women's Day, an act of "corporate feminism" in the face of calls for staff to be paid a living wage, or a tribute to East Asian cartoons?
McDonald's have flipped their logo upside-down "in celebration of women everywhere," according to a statement from Wendy Lewis, the fast food chain's chief diversity officer.
The inverted golden arches can be seen on McDonald's United States social media channels, and on a signpost outside one restaurant in Lynwood, California, USA.
But the act has been branded "McFeminism" by some people who have criticised "corporate-friendly" feminism, with others calling for McDonald's to focus on pay rather than "symbolic gestures".
You may also like:
Many have joined the conversation by calling for McDonald's to pay their staff a minimum wage of $15 (£10.81) per hour.
For some people this alone would not be enough. American Muslim lawyer and writer Qasim Rashid tweeted about the need for more women and minorities to be hired in leadership positions, while another suggested the franchise could try to offer "a career path forward in the face of automation".
However, one reply pointed out their local franchise "pays $11.50 and full benefits".
And not everyone was critical of McDonald's move, with Antonio J Lucio, Chief Marketing Officer of computer manufacturer HP calling it an "iconic statement".
But others disagreed, with a Twitter user joking that the move was a way to avoid paying staff more.
And Leon Martins, a YouTuber with over seven million subscribers, suggested that because the Portugese for woman is mulher, "McDonald's in Brazil are honouring Women's Day all year round".
Meanwhile, for some people the upside-down logo had a different meaning entirely as online references were posted to "WcDonald's" - a brand name which often appears in anime series to get around copyright laws.
This prompted one person to jokingly praise McDonald's "unprecedented show of support for anime", while another shared a still from the show InuYasha featuring characters in a restaurant with a now-familiar W on the window.