Olympian criticised for swimming pool anecdote
By Patrick Evans
BBC News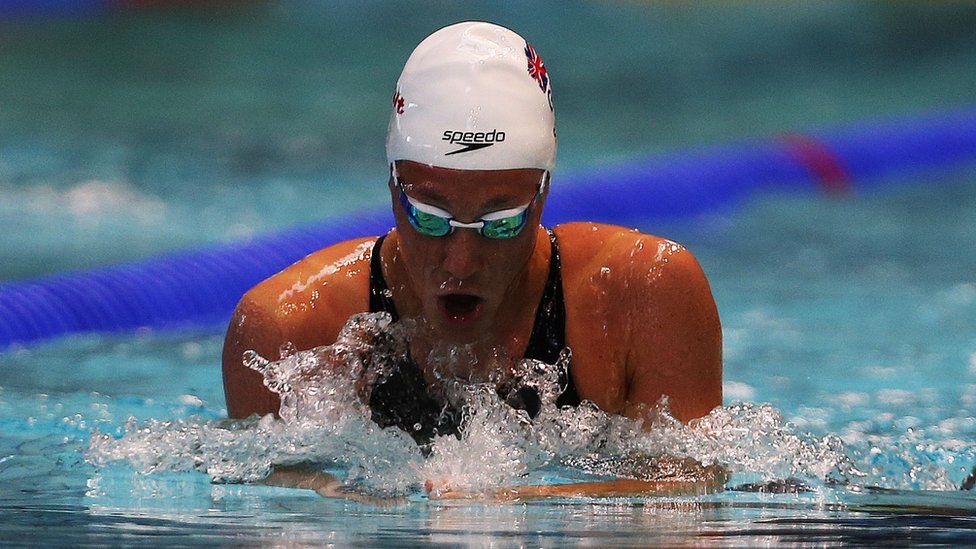 When Lizzie Simmonds posted a humorous anecdote on Twitter she had no inkling of what was in store over the next forty eight hours.
"I thought a few people might think it would be funny" the British Olympian told the BBC. She was referring to a misunderstanding between her and another lady at a public swimming pool in Edinburgh last Friday.
Lady in public lane: you're very good at swimming you know..

Me: erm, thanks

Lady: no seriously, you should try and do a trial with the county club!

Me: erm, well I actually went to a couple of Olympics..

Lady: me too! Which sports did you get manage to get tickets for?

🤔

— Lizzie Simmonds (@LizzieSimmonds1) March 10, 2018
The lady had told Lizzie she should consider pursuing the sport seriously. When Lizzie told her she'd been to the Olympics a couple of times the lady presumed she meant as a spectator not as a competitor. Lizzie found the whole interaction and her own awkwardness very amusing. "She was very sweet".
"I wouldn't usually be in a public session but I had to make up some training so I could visit my other half over the weekend in Bristol" she said.
"The lady was in the lane next to me. She naturally presumed I wasn't in a club because I was in the public session."
At first Lizzie got a positive reaction to her tweet. "That's wonderful" exclaimed an early reply to her story.
A retweet from Piers Morgan to his 6.44 million followers helped Lizzie's post spiral to popularity, but reaction also quickly started to sour.
"Oh yes how could the world not recognize @LizzieSimmonds1....oh wait, this is the first time I've heard of you." responded one person.
Lizzie was surprised both by her story's popularity and the hostility.
"I did the tweet in the morning and checked backed a few hours later and I was like wow that was more likes than anything I've got from swimming." At the time of writing her tweet has been liked by more than 200,000 Twitter users.
"Some people read it in the exact voice that I meant it and other people read it like I was arrogant and expecting recognition. But I'd never expect that, I am not a household name, I wasn't tweeting about it because I thought I was famous! I was tweeting because I had a funny misunderstanding. People are very quick to judge on social media."
The reaction worsened when the US sports channel ESPN picked up on Lizzie's post and shared an image of it online. Many of their social media followers struggled to read the post in the spirit in which it was meant.
"Culturally it was taken out of context more." Lizzie explained. "99% of the comments were negative with people saying 'I have no clue who you are?'"
"Lol @ the fact that she thinks she's famous..."wrote @joshgotpix.
Another user agreed: "based on this interaction, she sounds incredibly pompous, as if the lady was supposed to know who she is?"
I keep getting nominated for a "did not happen" award (which is apparently a thing).

In hindsight I wish I'd made my anecdote more believable and included less aliens and witchcraft..

I have concluded some people need better hobbies.

— Lizzie Simmonds (@LizzieSimmonds1) March 11, 2018
Lizzie was also branded a liar as people suggested the encounter had not even taken place.
"Yeah, this 100% didn't happen though, thanks a lot." responded one user.
This baffled Lizzie. "There seems to be a twitter award for people who make things up to get likes. A lot of people nominated me for it. I said it's not that unlikely to happen!"
Some comments were simple misogyny "I bet she's really good in the kitchen, where she belongs." one person posted.
I did a tweet about a conversation with a sweet old lady.

Piers Morgan made it go viral.

ESPN turned America against me.

Kind people are battling with faithful indignation to defend my honour.

Trolls are throwing scathing insults and burning effigies.

The internet is mad.

— Lizzie Simmonds (@LizzieSimmonds1) March 12, 2018
"The whole episode was a beautiful analogy of the Internet." Lizzie said. "I had people throwing nasty insults and people judging me without knowing who I was. Then on the other side I had people who again don't know me and were completely defending me. I guess social media has lots of positives and negatives. It's been an interesting eye-opener. You read about this sort of stuff but don't expect it to happen to you."
It has made the swimmer reflect on the huge opportunities for misunderstanding inherent with social media. "In my head I read it (the tweet) the way it happened in real life. It seems like a lot of people in America read it in a different way. I never considered people would think I was ridiculing an old lady."