Stephen Hawking: Empty chairs, black holes and #PiDay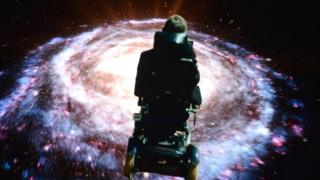 Millions of people across the globe have flooded social media with tributes and illustrations expressing their sadness at the death of the renowned physicist Professor Stephen Hawking.
Many artworks posted in honour of the professor focus on his iconic mobility chair.
One such image which has been widely shared depicts the famous chair with an array of glowing stars emanating from the seat.
The picture was originally posted by news website Pictoline with the caption, "Goodbye, Stephen Hawking".
A minimalist portrayal of the professor's chair was posted on Instagram by Barcelona-based designer Eh'ctor.
Venezuelan designer, Oriana Estefania posted an image of Professor Hawking flying towards a black hole with the caption, "Free, heading to your paradise... the universe".
The official Twitter account of the Clangers also shared an image of the children's TV characters looking up at the stars along with one of Professor Hawking's widely shared quotes.
An inspiration
Alana Neimanis in London, posted a video of her eight-year-old son Samuel reacting to the news of Professor Hawking's death.
In the video, he explains that he will "forever miss" the professor, and thanks him for his contribution to science.
Alana told BBC News that Professor Hawking inspired her son to develop a real love for physics.
"Samuel often plays in the kitchen filling the sink with water and washing up to let the foam drain to see how it emulates the force of a black hole."
Samuel has Autism Spectrum Disorder, and sometimes finds it hard to understand why his friends are not as interested he is in the laws of physics.
Alana also reflected that Samuel has been inspired by the way Professor Hawking overcame the barriers of his disability to lead a "very successful" life.
Twitter account, Curious_Squirrel, which regularly shares light-hearted content about squirrels, posted an illustration depicting a squirrel observing the universe.
The tweet reads that Professor Hawking was such a skilled scientific communicator, he could teach "even a squirrel" about the universe.
#PiDay
Many online have been discussing the significance of the date of Professor Hawking's death, using the hashtag #PiDay.
The date, 14 March, is marked as 'Pi Day' by some on social media in reference to the first three digits of the date, 3.14 - when written in the US-style - mirroring the first three digits of the mathematical constant pi.
Astrophysicist John Moffitt commented on the aptness of Professor Hawking's date of death, and pointed out that the date is also the birthday of Albert Einstein.