After rugby rape acquittal, #IBelieveHer trends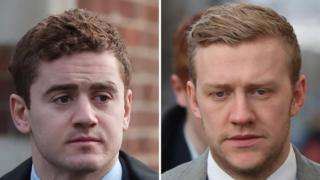 Everyone is talking about it.
On Wednesday Ireland and Ulster rugby players Paddy Jackson and Stuart Olding were found not guilty of raping a woman in 2016.
The reaction on social media was swift and determined, echoing the #MeToo movement about sexual harassment which erupted in late 2017.
Many claim the criminal justice system's handling of sex offence allegations reflects the poor state of women's rights in Northern Ireland. More than 41,000 people so far have used the hashtag #IBelieveHer.
Others argue defendants are tried in a court of law, not by social media, and criticise people for trying to subvert a legal ruling.
The recent case centred on an alleged incident at Mr Jackson's home in Belfast in 2016 where Mr Jackson, Mr Olding, Blane McIlroy and Rory Harrison went with four women after leaving a club.
One of the women told the court Mr Jackson followed her into a bedroom, pushed her onto a bed, and she claims he then raped her.
The accused said all sexual activity was consensual.
All four men were acquitted on Wednesday.
Many online quickly and angrily expressed criticism of the legal system following the ruling, claiming it would discourage complainants from reporting incidents due to fear of not being believed or being put through the wringer in court.
Also widely shared is a 2017 Guardian newspaper comment piece discussing the issue of under-reporting of sexual violence, the lack of specialist support for women reporting rape, and the way that some women reporting incidents are met with disbelief from police.
A victims' support centre, the Dublin Rape Crisis Centre, called for a review into how cases of alleged sexual offences are conducted claiming all parties in the case were "subjected to questioning on the most intimate and private aspects of their lives in a way that was inefficient and cruel".
Screenshots are being shared of witness testimony by the complainant saying she was initially too scared to report the alleged incident to police because she didn't believe she would be taken seriously.
In tweets shared thousands of times, social media users including journalists, doctors and students argue the case demonstrates the unsuitability of the existing legal system for trying rape cases.
Many tweets also suggest reporting rape in Ireland is extremely difficult because of the belief that the accused are "rarely found guilty".
Actor Danielle Collins shared a screenshot of her donation of €500 (£438) to to the Dublin Rape Crisis Centre.
One widely shared Facebook post by David O'Donovan explained he accepted the legal verdict, but he felt that the case demonstrated an attitude of "misogyny" and "abuse" generally towards women.
"To women; our family, our friends, or strangers…we are listening. We will be better. We will stand up and speak out," he wrote.
But others strongly objected to the hashtag and instructed observers to respect the court's verdict.
Others commented on the negative impact allegations of rape can have on defendants who are acquitted.
"The men were very much on trial and received enormous coverage. They may have been acquitted but their reputations and public image have been badly damaged," read one tweet.
In another liked more than 5,000 times, journalist Sarah McInerney highlighted the strength of feeling in the country about the case, writing:
"The #IBelieveHer hashtag gives an insight into how deeply upsetting this court case was for so many people. If nothing else, it must surely lead to a change in how rape trials are conducted. Is there any other crime in which the alleged victims appears to be the one on trial?"