Ukrainian military veteran criticised for 'pink shoes' photo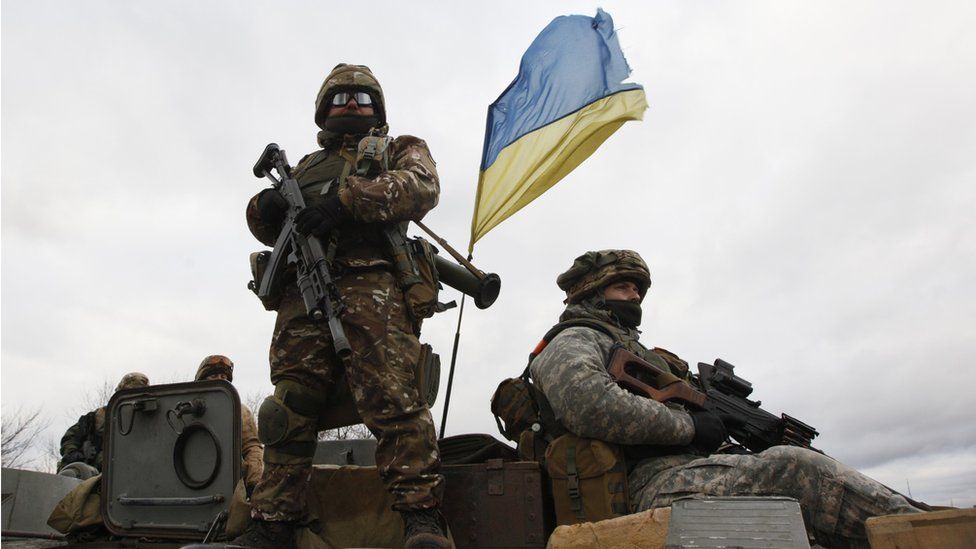 A photograph of two young men posted by a Ukrainian war veteran has sparked a debate on social media about masculinity and freedom in the country.
The dispute is an example of liberal Ukrainians rejecting a social conservatism that they identify with Russia and the Soviet past.
The photo was shared by Petro Batkivsky, who fought against pro-Russian separatists in the eastern Donetsk and Luhansk region.
Many Ukrainian social media users have been critical of Mr Batkivsky's mockery, and are debating the implications of the veteran's post.
Much of the criticism refers to Ukraine's military and political history with Russia and the Soviet Union, with one user damning as "Soviet-era savages" those who attacked the young men.
Martin Brest, who also served in the Ukrainian army and currently works for the police, shared the image with a caption stating he dislikes it "when someone asserts themselves at the expense of the weak".
He urged people to resist this impulse and remember "when non-conformity and diversity leave, drabness and decay remain".
Meanwhile, journalist Viktoriya Yasynska asserted that "if you fought for life in a free country, you should know that Freedom wears pink trainers".
While the majority of comments on social media have criticised Mr Batkvisky, some had sympathy for the veteran's point of view.
Facebook user Nikolay Lynnyk wrote that he "can understand the feelings" of Mr Batkyivsky who went "through the hell" of war to defend the young generation, who are turning into "genderless individuals".
However, many people have shared a response to the original post by Anastasiya Nikolayeva, who posted photos of her 15-year-old son who dresses in a similar way to the boys being mocked.
Ms Nikolayeva explains her son is a patriot who supports the army, and chastised Mr Batkivsky for making judgments based on appearance.
She writes: "If there is a need, he will take off his pink trousers and will defend us like you do. This is not about the clothes, but about what's in one's head."
It was not long before the serious debate was punctuated by tongue in cheek responses.
A number of people shared an altered version of the controversial image, showing the young men dressed in khaki, and Mr Batkivsky sporting a bright pink hat and jacket.