Women mock the way they are portrayed by male writers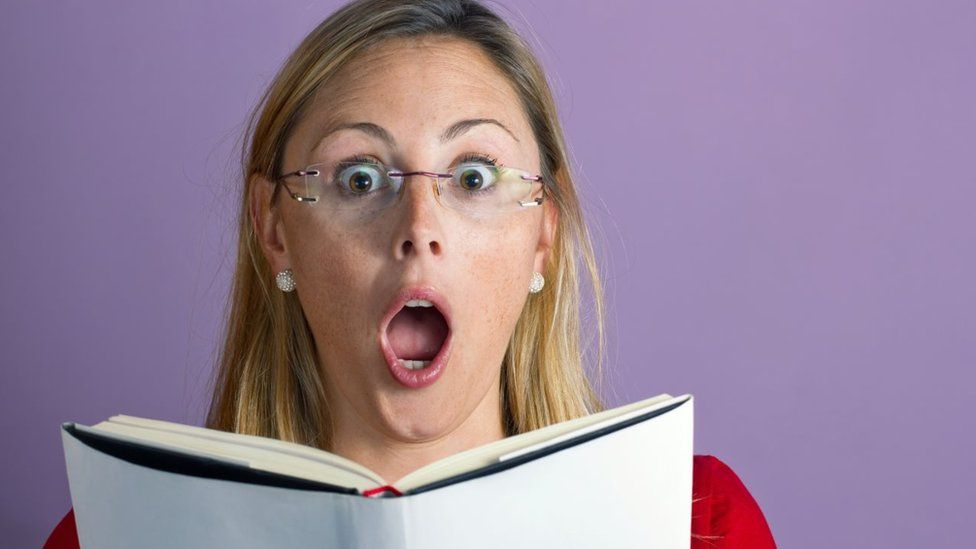 Women have been sharing parodies on social media of they way they feel they are portrayed by male authors.
The responses caricature the tendency of male authors to focus on the physical appearance of female characters, and the often florid language used to describe their bodies.
Many replies also highlight the way women who are not deemed to be young and attractive, are dismissed as "cranks", "frightening" and "intimidating".
She had the quick compensatory mind of a woman who was not quite beautiful, but appeared so after a few drinks, when the light was just so, and the birdsong in the trees echoed across the chasm between her face and true beauty https://t.co/jSy6GihC6k

— Lydia Kiesling (@lydiakiesling) April 2, 2018
The challenge has generated almost 2,000 comments mocking the simplistic writing tropes used by some male authors.
A number of women wrote replies focusing on the representation of ethnic minority women as "exotic".
She was petite, exotic. Definitely Asian, but full Asian? What kind of Asian? I decided to approach her

— melody (@emmkayeff) April 1, 2018
[insert something about being mixed race and how that makes me petite and inherently submissive but juxtapose it with the idea of me being adorably aggressive and will stand up for myself. But make it sound endearing. ]

— Lilly Beth Chung (@LillyBethChungx) April 1, 2018
Despite her round face, the only thing sitting higher than her breasts were her cheek bones. Eastern European, no doubt. He approached her.
"Where are you from?"
"New Jersey"
He smirked, and asked the question that would surely endear him to her forever.
"No. Before that."

— Vanessa Salkova 🇺🇦👑🇺🇦 (@thetsarina) April 1, 2018
Katz called out a fellow author for criticising the #ownvoices campaign which champions more diverse characters written by people from those diverse groups.
Many women used the format to ridicule the portrayal of older women in literature.
Most of these replies focused on the "sad" lack of youth, and the characterisation of older women as "maternal".
When I looked at her I saw a woman who had once been beautiful. I could tell by gazing into her eyes that she, too, mourned for her lost youth and the promise her beauty afforded her. It makes sad to see an older woman. They've nothing left.

— (((Lisa Solod))) (@lisasolod) April 1, 2018
While she might have been a solid 7/10 in her youth, motherhood and middle-age had relegated her to the realm of the profoundly 5/10.

— Brindle (@jaidspur) April 1, 2018
One woman reflected on the way she would be described having undergone a mastectomy.
Her lack of one breast due to cancer rendered her impossible to lust after, but she could get quite flirty after a few ales which rendered her attractive to a diminishing few

— Catherine Dean (@cathjdean) April 1, 2018
Another called Kathleen replied to the thread to say that as a "middle-aged woman in tech" she would be overlooked by male authors all together.
Let's be realistic, as a middle-aged woman in tech, no male author would describe me, ever.

— Kathleen (@PeaceLoveUnix) April 1, 2018
However, fellow Twitter-user Gabrielle took it upon herself to pen a description of Kathleen's "intimidating presence".
She broke all the rules. She was good at math. Her sex and intellect made for an intimidating presence. Only an emotionally mature adult could keep up with her. Jellyfish need not apply.

— Gabrielle-illuminati High Priestess (@Minervasbard) April 1, 2018
Other women who also suggested they would not receive a description simply described the scene in which their character might appear.
'Tea was brought and then cleared away as the men discussed [big important plot issue] around the boardroom table.'

— JL Kaufmann (@Reed_insists) April 1, 2018