Seth Rich: How a young man's murder attracted conspiracy theories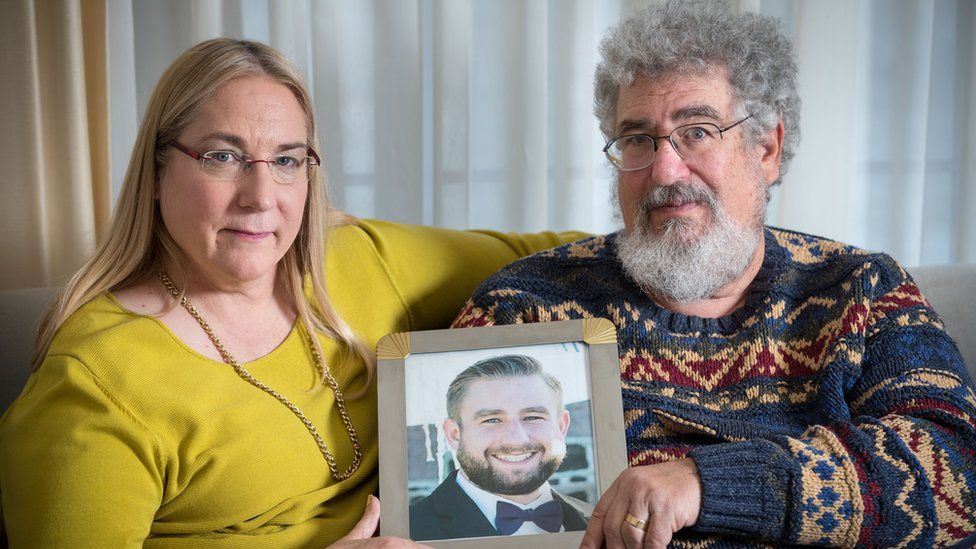 The unsolved death of a Democratic Party operative became political when conspiracy theories took off on social media. Now, nearly two years later, one simple question has been left unanswered: who killed Seth Rich?
In the early hours of 10 July 2016, Seth Rich was making his way home from a night out in Washington DC.
The 27-year-old was a digital campaigner with the Democratic Party and he lived in the Bloomingdale area of the city, home to many young politicos hoping to make it big in the nation's capital.
Seth was chatting to his girlfriend as he ambled the few miles home from his favourite bar. At 4:19 a.m. he told her he was almost at the door and had to go.
Second later, gunshots rang out. Seth was found lying on the ground a block from his apartment. He had two bullet holes in his back and his watch, wallet and phone were all found on him. There were signs of a struggle. Seth's hands and face showed bruising. He died shortly thereafter.
The Washington police say that Seth's murder was a street robbery gone wrong. The case remains unsolved.
But unlike most other murders, Seth's death soon became a national story, as conspiracy theorists latched on in the fevered atmosphere of the 2016 presidential election.
The timing of the murder and the fact that he had worked for a political party instantly raised eyebrows.
Just weeks after his death, Wikileaks published 20,000 emails obtained from Democratic National Committee computers via an anonymous source.
Seth's death became the subject of a series of conspiracy theories. Depending on the politics of those speculating, Seth was killed by the Clintons or assassinated by Russian agents. Various theories called him a closet Bernie Sanders fan, an undercover Republican leaking secrets to Putin's Russia, or a patriot killed by a corrupt establishment.
These theories - which were based on little or no evidence - began in the corners of the internet on obscure websites and blogs, but spread rapidly to Reddit, Facebook and Twitter.
Eventually some of them made it into mainstream news - and were seized upon by supporters of Donald Trump to aid their own political ends.
It was this chain of events that we sought to unpick in our film Conspiracy Files: Murder in Washington.
Pablo Manriquez was a colleague of Seth's working for the communications team at the Democratic National Committee (DNC). He remembers Seth as an earnest young American patriot and a loyal and committed Democrat.
He told us: "There's a photo of him in an American flag, sort of head to toe, shirt and pants, - that wasn't an ironic fashion statement. He loved America, he believed in the Democratic Party and that was central to understanding Seth."
Pablo remembers when he first heard the theories that began to circulate about Seth's death.
"I saw somebody post something to the effect of - 'is it true what they're saying about Seth on Facebook?'" he said.
"The story just erupted and it was just his Facebook profile picture and his DNC headshot that just filled my news stream. That's was the first big red flag that this was going to be a really bad thing."
It started with a single post on Twitter. A Bernie Sanders-supporting Twitter account connected the murder with a lawsuit filed by Sanders supporters against the DNC.
Shortly thereafter, the conspiracies really began to take root on the online message board Reddit. Links to local news stories about Seth's murder were posted, suggesting Seth was killed for leaking DNC emails. The theories then spread from Reddit and the anonymous 4Chan message board, to Twitter and Facebook.
"Stories like this will start on fringe sites - and then they will be pushed on social media by conspiracy-minded groups particularly on the alt-right, but not exclusively," says Ben Nimmo, a fellow at the Atlantic Council's Digital Forensic Research Lab.
Despite the turmoil within the Democratic Party as a result of the leak, just four days after the emails were published, Hilary Clinton was nominated for president.
And so began the last stage of the most brutal presidential election campaign in living memory. It wasn't long before those on the right saw Seth's death as a useful campaigning tool.
Roger Stone is a right wing political operative who at one time worked for the Nixon White House and refers to himself as a dirty tricks specialist. He started tweeting about Seth Rich.
Anna Merlan, who is writing a book about conspiracy theories, says that Stone was tapping into a wider right-wing theory that the Clintons have had people killed.
"Roger Stone was part of a group of far right figures in the 90s who basically suggested that Bill Clinton was running a drug cartel out of Arkansas and having his political opponents killed to cover it up. He coined the term 'Clinton Body Count' and Hilary became embroiled in that," she says.
The growing conspiracy theories received a further boost when Wikileaks founder Julian Assange appeared on Dutch TV and strongly implied that Seth had been the whistleblower behind the email leak.
"What Julian Assange was an accelerant to this very small slow-burning fire," Merlan says.
Soon afterwards, Wikileaks posted a tweet offering a cash reward for anyone who could help solve the murder. Many people interpreted that as an implicit confirmation that Seth Rich had been their source. In reality, nobody knows to this day if this was the case. Assange has consistently refused to confirm or deny that Seth - or anyone else - was the organisation's source.
The conspiracy theories picked up a second wind when attention turned to alleged links between President Trump and Russia.
"The implication was that if Seth Rich had been the leaker it can't have been Russia that leaked the emails to Wikileaks," says Ben Nimmo.
The case gathered pace after it emerged that wealthy Republican donor Ed Butowsky had hired private investigator Rod Wheeler to investigate.
Wheeler was also a Fox News contributor and former police detective. His findings appeared on the Fox News website and one of its main presenters, Sean Hannity, turned his attention to the story.
Hannity used his Twitter feed to demand a Congressional investigation.
The Russian Embassy in London even weighed in.
It emerged that Butowsky and Wheeler met Donald Trump's press secretary at the time, Sean Spicer, to discuss the story.
However, the original Fox News piece soon fell apart and was retracted by the network. Rod Wheeler is currently suing Fox and Butowsky for defamation claiming they misquoted him. Seth Rich's family have also launched legal action against Fox and Butowsky.
Seth Rich's mother Mary Rich told the US TV show Good Morning America: "They never called us to check any facts. They took a rumour and ran with it.
"We lost his body the first time, and the second time we lost his soul," she said.
Nimmo says that the case shows how social media can push conspiracies from the fringes into the mainstream.
"There have always been conspiracy theories, but when they have always been passed by word of mouth in small circles, they never really have impact," he says.
"Now you can now spread that around the internet and you won't find many people in a single physical location who buy into it, but you will find enough people in enough different locations, that you can give it the impression of having a substantial belief group."
As the investigation continues into another alleged chemical attack in Syria, one group of influential online activists is busy spreading their version of events.READ NOW