Morrissey: Is it possible to separate art from artist?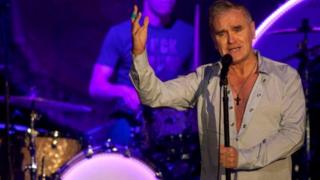 "Morrissey is definitely the worst person whose music I will listen to for ever."
So says a culture writer on Twitter in reference to recent comments made by the former Smiths singer on his website.
In a wide-ranging interview, Morrissey takes on various subjects. He calls halal meat "evil" and takes aim at political figures, such as Prime Minister Theresa May and Sadiq Khan, saying the London Mayor "cannot talk properly".
You may also like:
The singer recently courted controversy after appearing to defend Kevin Spacey over allegations of sexual abuse, and now after his latest comments, people on Twitter are asking whether they can separate Morrissey's music from his often controversial opinions.
"Speaking as someone who opened their heart to his words back then, it's really extraordinarily painful to see what he's become," said sci-fi author Adam Roberts.
These thoughts were echoed by others on social media who called for the singer to "stop being so problematic", with Otis Hart pleading: "Don't let 2018 Morrissey ruin 1984-1994 Morrissey."
Others were not sure they could keep music and musician apart. "You shouldn't separate art from its creator," said Max Valley on Twitter. "That's just a way to ignore reality and enjoy things for yourself."
One comment from the interview which drew criticism was Morrissey's claim that "the modern Loony Left seem to forget that Hitler was Left wing", with a comedian listing his counter-arguments.
But not everyone said their enjoyment of Morrissey's music had been altered by the singer's opinions.
One person asked why Morrissey expressing his views should be seen as problematic, with Leave.EU calling the tweets "classic Morrissey".
Some people were able to see the lighter side, questioning the authenticity of the interview itself - but not for reasons one might expect.
Some Twitter users wondered whether John Riggers, who interviewed Morrissey for the singer's website, was real or whether, as one person wondered, "Morrissey may literally have interviewed himself".
Soon the memes began to appear, with other people suggesting that John Riggers was simply Morrissey in disguise.