India rape crisis: Twitter users rally round hunger striker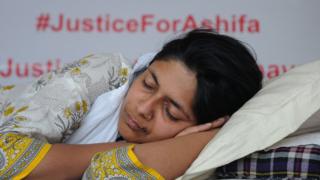 As India's rape crisis continues, a hashtag has emerged expressing support for a hunger striker demanding tougher penalties for rapists.
"#BetiKhatreMeinHai" which translates to "daughter in danger" is being used to rally support and draw attention to Swati Maliwal's protest.
Ms Maliwal is the chairperson of the Dehli Commission for Women, a government body that promotes women's rights in the city.
She began her hunger strike on Friday 13 April. One of her demands is that anyone convicted of raping a young girl should be hanged within six months.
A week on from the start of Ms Maliwal's protest, the hashtag has over 41,000 mentions on Twitter.
Ms Maliwal tweeted she would not end her fast until Narendra Modi, the Indian Prime Minister, accepts her demands.
Two long-running rape cases continue to be the focus of emotionally charged conversations on social media in India. Outrage has spread in the country after the brutal gang-rape and murder of an eight-year-old Muslim girl from Kathua in Indian-administered Kashmir came to public attention.
There is also uproar after a 16-year-old girl in Unnao in northern Uttar Pradesh state accused a lawmaker from the ruling Bharatiya Janata Party (BJP) of raping her.
Since Maliwal began her hunger strike, the rape and murder of two other young girls in Uttar Pradesh and Chhattisgarh have also been widely reported in the country.
"Daughter in danger" has been used to express anger about not enough being done to help stop violence against women in India.
You might also like:
Many also criticised India's ruling party for failing to tackle increasing crimes against women. Mr Modi, who has faced criticism over his delayed response to the problem, said rape should not be politicised in his latest remarks on the issue.
"A rape is a rape. How can we tolerate this torture with our daughters? You are always questioning your daughters, why don't you ask the same questions to your sons? I believe this is the evil of not just the individual but also of the society," he said, while addressing the Indian diaspora in London on 18 April.
Many users of the hashtag have been critical of the Indian prime minister, while others praised Ms Maliwal.
Others were concerned for Ms Maliwal's welfare: "Swati must not continue with her fast, she did everything to make them hear. Let people decide if they are ok with such politicians, it's no use risking your own life when the government doesn't care for our daughters," tweeted one supporter.
Although the hashtag was created to express support for the hunger strike, detractors also used it to raise their concerns.
"Crime rate for rape in India is already very low. We are not even in top 50 countries. Crime-against-women laws are biased in favour of women. Why this drama of #BetiKhatreMeinHai? Your boy is more likely to be accused in fake rape molestation charges than actual rape. What next?" read one reply to an update on Maliwal's protest.