Cricket fans stump up cash for Iceland national team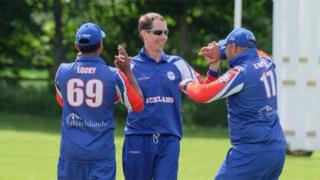 Iceland's cricket team is not among the heavyweights of the game, but thanks to the generosity of an online community of cricket lovers, fundraisers will hope the crack of leather on willow could be heard more and more in the north Atlantic nation's volcanic landscape.
Yet to play its first international fixture - set to be against Switzerland in the UK in July - the amateur side, founded in 2008, has been crowdfunding money to cover its costs.
Members of the 70,000 strong r/Cricket subreddit answered the north-Atlantic nation's call for support, raising more then £2,100 in a fortnight.
The forum has now become the official sponsor of the Iceland team and its tours to the UK for the next two years.
The Iceland side will be hoping they can one day replicate the success of the country's football team, which qualified for the European Championships in 2016 and beat England in the first knock-out round of the tournament.
Plus, the team's Twitter account is not above the occasional dig at more established cricketing rivals.
"Because you raised £2,000, the r/Cricket community is now the official sponsor of the Iceland cricket team and its tours to the UK, in 2018 and 2019," Kit Harris - who started the crowdfunding campaign on behalf of the Iceland cricket team - wrote on Just Giving.
Harris promised further prominence for the Reddit cricketing community if the appeal reaches £2,500.
Members of the Cricket subreddit were quick to celebrate the news. Reddit user thesatansvalet first contacted Kit Harris to propose the idea.
"Congrats to the whole community," they posted on r/Cricket after the target was reached.
"We have done something amazing thanks to all the generous people who donated towards this crowdfunding campaign.
"Now comes the fun part where we get to decide what we want to write on their jerseys."
Early favourites to be suggested by the community include "Ice Garry", a play on words aping the well-known call of "Nice, Garry," by Australian international wicketkeeper Matthew Wade to teammate Nathan Lyon (nicknamed Garry).
You may also like:
Others to be put forward include "Cricket for All", reflecting the community's desire to expand the reach of the game further beyond the established test-playing nations.
With a population of just over 347,000 people, there are currently only two cricket clubs in Iceland - the Reykjavík Vikings and Kópavogur Puffins.
In their most recent clash, the Puffins comfortably beat the Vikings by seven wickets.