Iranian prisoner's execution 'delayed after Twitter outcry'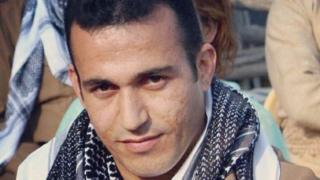 The execution of an Iranian man has been delayed after the country's authorities appear to have bowed to an online campaign to save him.
Ramin Hossein-Panahi's case is thought to have been helped by protests on social media after his name was shared in tweets almost 230,000 times in 48 hours.
Twitter users showed support for the political prisoner and his family, saying that time was running out to save his life.
The 22-year-old was sentenced to death in January for "taking up arms against the state". He had been due to be executed on Thursday.
There has been no official statement about why a stay of execution was granted and as a result, people are crediting the suspension to the protests on Twitter.
Amnesty International Middle East advocacy director Philip Luther said Mr Hossein-Panahi's case had been a "breathtaking miscarriage of justice from start to finish".
Mr Luther claimed there were reports of torture marks on the detainee's body, and that his conviction was because of his membership of the armed Kurdish anti-establishment group Komala.
The Iranian authorities believe Komala to be a terrorist group that is against the country.
However, Amnesty International claims there was no evidence presented during his trial which linked him to any intentional killing.
Writing on Wednesday, Mr Hossein-Panahi's brother, Amjad, said on Twitter that he had been moved out of solitary confinement, into the general prison.
However, the family still believe his execution may be "imminent".
"My mother has emphasised that she will calm down only after Ramin's release," Amjad said. "She's very worried about likely deceptions."
Many Iranians, sceptical of the regime's motives, are urging people to keep the online campaign going.
"People are no longer fooled by the criminals' [Iranian authorities] tricks. We have to expand the campaign to support him [Ramin] further," said Twitter user @faryadjavanroud. "We have neither forgotten nor forgiven Bahman Varmazyar's execution."
Mr Varmazyar was a hairdresser and sports coach who was involved in an armed robbery in March 2015. The following month he handed himself in to the police and returned everything he stole, expressing regret for his actions.
You may also be interested in:
The authorities' decision to delay Mr Hossein-Panahi's execution comes days after the news that his niece, Nishteman, had taken her own life.
"Nishteman ended her own life after learning that Ramin's execution would be carried out," Amjad said in a tweet. He added that her husband was under arrest.
Amnesty International had also called for Mr Hossein-Panahi's execution to be halted and urged supporters to continue to campaign for his release.