'Design crimes': How a bench launched a homelessness debate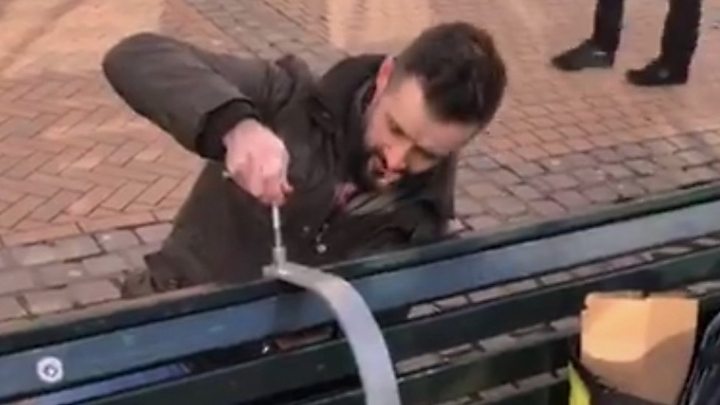 A picture of a rainbow-coloured bench has launched a debate about homelessness, exclusion and hostile design on social media.
On Saturday, Twitter user Isaac Azuelos posted an image of a bench in his home town of Calgary, Canada.
The bench featured metal bars which prevent homeless people from sleeping there.
Mr Azuelos' tweet was widely shared and other users posted their own examples, some using the hashtag #HostileDesign.
You might also like:
Some saw the design as evidence of the marginalisation and exclusion of homeless people from public spaces.
"These are designed specifically to prevent tired people from laying down on them," wrote Twitter user @ThisMicah.
"It's a feature, not a bug," the tweet continued.
"I think the problem is that society tells them they're a problem and shuns them from public spaces," wrote another.
"But that doesn't solve the issue, [it] just pushes it out of sight. Maybe by treating homeless people like humans they can actually progress rather than be a 'problem'."
But others questioned why people should be allowed to sleep on public benches.
And some pointed out that bars can provide support and assistance to the elderly or less physically able.
"Ever thought about old people who need something to hold onto to get up and down?" asked one.
"Pretty sure it's rather for them than against homeless people sleeping there."
The debate has captured the interest of many. Mr Azuelos' original tweet has generated significant discussion online and tens of thousands of likes and retweets.
On Sunday, he posted a screenshot of a conversation he had with the organisation which runs the site where the bench was installed, Springboard Performance.
"The bench was actually a donation to our non-profit by city workers, specifically for an elderly patron who walks by every day" a spokesperson said.
"The intent was not to institute or uphold the principles of hostile or exclusionary design."
British artist Stuart Semple has previously used social media to shine a spotlight on examples of hostile design.
In February, he set up a website to document what he describes as "designs against humanity" after seeing benches fitted with "anti-homeless" bars in Bournemouth, Dorset. He posted an image of one of the benches to Facebook in January which, he claims, was viewed more than a million times inside 24 hours.
Bournemouth council officials later announced that all bars would be removed following protests.
Social media users contribute to Mr Semple's campaign by tagging pictures on Instagram with the hashtag #HostileDesign. Pictures featured in the website's gallery include examples from Milan, New York and Toronto.