Spanish rapper on the run after 'terror lyrics' prison sentence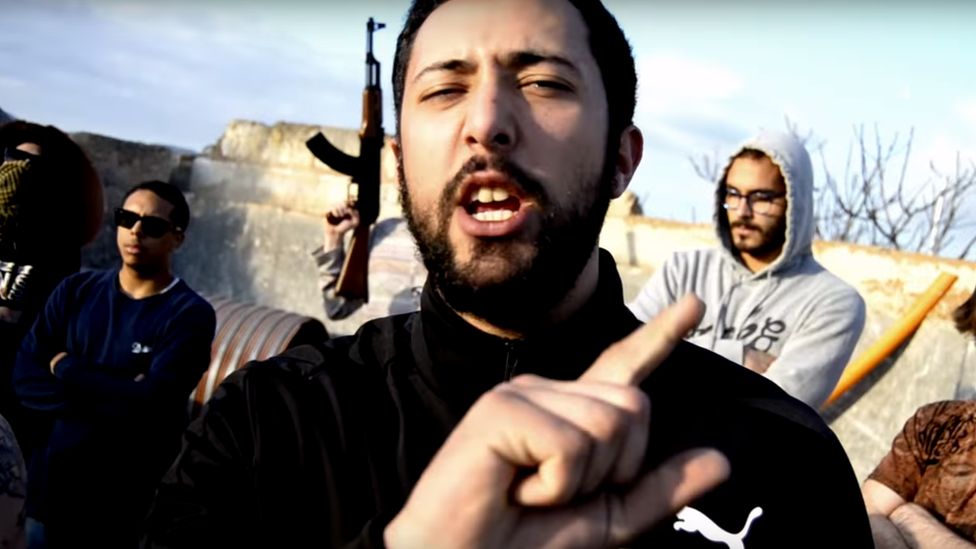 "Tomorrow is the day. Disobedience is legitimate and a duty. Here, no one surrenders," - the final words by Spanish rapper Valtonyc before he went on the run on Wednesday.
Now his whereabouts are a mystery.
An international arrest warrant has been issued and Spanish social media is up in arms about freedom of speech.
The 24-year-old, whose real name is Josep Miquel Arenas Beltran, was due to begin a three-and-a-half year prison sentence on Thursday for producing lyrics the Spanish courts ruled glorify terrorism and insult the Spanish monarchy.
In one song Valtonyc rapped: "I want to send a message of hope to Spaniards: Eta is a great nation," in a reference to the Basque militant group.
"The king has a rendezvous at the village square, with a noose around his neck," he says in another.
Skip twitter post by Josep V. 🎗️
Allow Twitter content?
This article contains content provided by Twitter. We ask for your permission before anything is loaded, as they may be using cookies and other technologies. You may want to read Twitter's cookie policy, external and privacy policy, external before accepting. To view this content choose 'accept and continue'.
The BBC is not responsible for the content of external sites.
End of twitter post by Josep V. 🎗️
The musician's appeal to the Supreme Court, on the grounds that he was protected by his right to freedom of expression, was rejected.
The defiant tweet, in which he calls Spain a "fascist state," has been retweeted almost 40,000 times and #FreeValtonyc was used to express support for the rapper, featuring in more than 350,000 tweets, largely supporting the musician.
You might also be interested in:
Catalonia's ex-leader Carles Puidgdemont, recently detained in Germany after himself going into exile following the Catalan independence referendum last year, tweeted support for Valtonyc:
"All my affection to you for a difficult decision, but it allows you to continue defending values and fundamental freedoms without which there is no democracy."
Journalist Fonsi Loaiza wrote: "Rapper @valtonyc is 24 years old and has had to leave his family to go into exile. He was going to prison for rapping, when he was 19, a song in Catalan against the King. In Spain there are 1,900 politicians charged with corruption, just 80 are in prison."
Skip twitter post 3 by Fonsi Loaiza
Allow Twitter content?
This article contains content provided by Twitter. We ask for your permission before anything is loaded, as they may be using cookies and other technologies. You may want to read Twitter's cookie policy, external and privacy policy, external before accepting. To view this content choose 'accept and continue'.
The BBC is not responsible for the content of external sites.
End of twitter post 3 by Fonsi Loaiza
"You are very brave. I would leave and denounce it away from here. Whatever you do, I'll stick with you," wrote Twitter user Lulu, and others called on him to challenge the ruling while in exile.
Another suggested the country he has fled to will not be happy if he begins to rap about "killing their policeman". In a recent concert, Valtonyc shouted, "Kill a Civil Guard (police) officer tonight."
'Extremism or intolerance'
Human rights group Amnesty International has called the actions "draconian" and "a sustained attack on freedom of speech".
The Spanish government has defended the legislation: "We have to fight against any sign of extremism or intolerance," Interior Minister Juan Ignacio Zoido said.
In a similar case this week, Turkish police arrested rapper Ezhel, real name Sercan Ipekcioglu, claiming his lyrics encourage drug use, although no specific song was mentioned.
Thousands are using #FreeEzhel on Twitter to defend the singer, who was due to appear at popular music festival Sziget in Hungary in August.
"I should tell you something funnier than your jokes about Ezhel. The mentality which puts artists in prison due to their lyrics is the mentality that will one day want to meddle with the length of your skirts while walking on the streets, the colour of your hair, your beard and your earring," one user wrote.
Ezhel has more than 570,000 monthly listeners on Spotify and his song Sehrimin Tadi (Taste Of My City) has had 31 million views on YouTube since July 2017.