World Cup 2018: Russians don moustaches in support of their team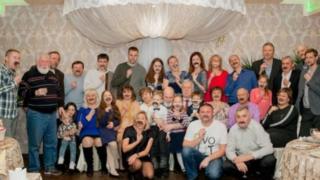 As football fans around the world count down to the start of the 2018 FIFA World Cup, a prominent Russian TV host has launched a campaign to support the national football team, with a nod to the head coach's facial hair.
Russian manager Stanislav Cherchesov is renowned for his signature moustache and Ivan Urgant, presenter of the Vercherny Urgant show, urged its viewers and Instagram followers to grow their own and post photos using the hashtag #MoustacheOfHope.
The post, which claims everything is against Cherchesov including "forecasts, weather, the laws of physics, the anatomy of some football players and simple logic as well!", has been liked over 40k times.
Some Russians have been sharing photos of their genuine moustaches.
Alexander Kuzmin, decided to shave off his beard and leave a moustache only to show his support via popular social media network vk.com, saying "I hope this will bring our team luck."
Others have been faking it, including Vladimir Neupokoev who is hoping his handy pen work will also bring luck to the team, and Irina Kuptsova, who has set her sights on a Russian victory.
You might also like:
Pets have also got in on the act including Inna Kurchkina's dog.
But not everybody has reacted to the post positively. There are some sceptics calling for the players to perform better rather than relying on online campaigns.
"All hopes pinned on the moustache now," adds Radik Dimukhamedov, who wrote that it was the team's only hope.