'True friendship' photo moves others to share stories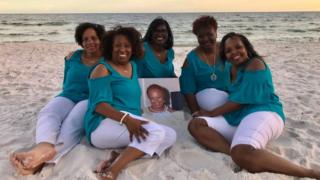 The "Sensational Six" have been friends for 40 years.
However, when one of the group died from cancer earlier this year, the remaining women decided to commemorate their lost member.
On a trip to Florida, which had originally been booked for six, the women conducted a sunset photo shoot in memory of their missing friend, Denise Bundridge.
The loving tribute, and the story of the women's bond, has moved many to share their own examples of the importance of life-long friendships.
Kris Robinson, the daughter of Sharon, posted the photographs on Twitter with the caption:
"My mom and her friends have been best friends for 40 years now. They call themselves 'the Sensational Six'. They planned this trip to Florida for the six of them. Unfortunately, one of them passed due to cancer in April.
"This is the type of friendship I want to have."
The photos inspired an overwhelmingly positive response online, as many described the Sensational Six as "beautiful" and "heart-warming".
The post has been liked more than 290,000 times and has been retweeted more than 67,000 times since Saturday 9 June.
Twitter user Jaclyn, from California, replied to Kris' tweet to share the "incredible" support her mother received from her group of friends after her cancer diagnosis.
Another woman explained how, after her mother's death, her friends take an annual trip to remember her each year.
Kris told the BBC that she was "shocked" by the reaction to her tweet.
She said: "I just wanted to share a picture of my mum and her friends because I thought it was beautiful.
"They made such an effort to remember and include Denise.
"That's not just friendship anymore to me, that shows how friends become family. That's love."
Another Twitter user, Molly, was inspired to share her similar experiences. She wrote that following her mother's death in 2016 her friendship group, "The Lake Ladies", had been a "huge source of love and support".
Sara described how after her mother passed away when she was 11, her mum's best friends - known as "The Seesters" - became an "integral" part of her life.
She wrote: "Groups of strong women to look up to is life changing."
You may also like:
Others were moved by the photos to heal rifts in their own group of friends.
While many commented on the photos to highlight the power of female friendships, some men posted photos of their own friendship groups.
Kris responded to the outpouring of support for the Sensational Six, saying: "Thank you for all of your kind words. Our moms are loving it!"