Galloway's war of words with a mystery Wikipedia editor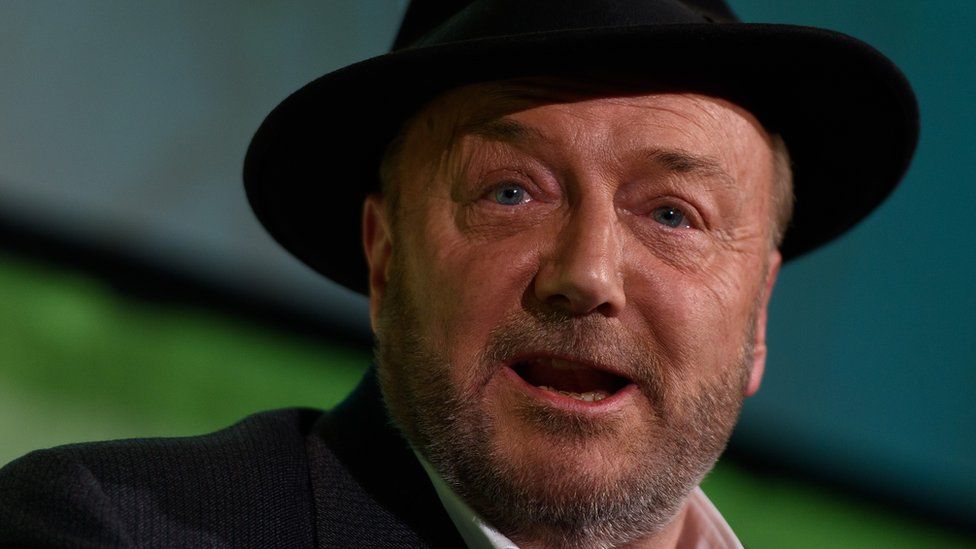 "Philip Cross" has made hundreds of thousands of edits to Wikipedia pages. But in the process he's angered anti-war activists and critics of British and Western foreign policy, who claim he's been biased against them.
"Christmas Day, Eid day, Easter Day, Cup final day, early hours of the morning, in the middle of the night - this man is on my case," says George Galloway, the former Labour and Respect Party MP. "And it doesn't take an Einstein to work out he's not tending this garden with loving care or to make it look as nice as it can look. It's the opposite."
The subject of Galloway's ire is a prolific Wikipedia editor who goes by the name "Philip Cross". He's been the subject of a huge debate on the internet encyclopaedia - one of the world's most popular websites - and also on Twitter. And he's been accused of bias for interacting, sometimes negatively, with some of the people whose Wikipedia pages he's edited.
The Philip Cross account was created at precisely 18:48 GMT on 26 October 2004. Since then, he's made more than 130,000 edits to more 30,000 pages. That's a substantial amount, but not hugely unusual - it's not enough edits, for example, to put him in the top 300 editors on Wikipedia.
But it's what he edits which has preoccupied anti-war politicians and journalists. In his top 10 most-edited pages are the jazz musician Duke Ellington, The Sun newspaper, and Daily Mail editor Paul Dacre. But also in that top 10 are a number of vocal critics of American and British foreign policy: the journalist John Pilger, Labour Party leader Jeremy Corbyn and Corbyn's director of strategy, Seamus Milne.
His critics also say that Philip Cross has made favourable edits to pages about public figures who are supportive of Western military intervention in the Middle East.
He's recently caught the attention of bloggers and has been the subject of stories in the Israeli newspaper Haaretz and Russian state-owned outlets Sputnik and RT. There have been allegations on social media - all unproven - that he's a government agent, employed by rich and powerful media interests, or is a mainstream journalist with an obsessive hobby.
You may also be interested in:
"His edits are remorselessly targeted at people who oppose the Iraq war, who've opposed the subsequent intervention wars … in Libya and Syria, and people who criticise Israel," Galloway says.
Recently Galloway offered a reward of £1000 to anyone who could provide information to reveal the editor's identity.
The BBC is not responsible for the content of external sites.
Skip twitter post by George Galloway
Allow Twitter content?
This article contains content provided by Twitter. We ask for your permission before anything is loaded, as they may be using cookies and other technologies. You may want to read Twitter's cookie policy, external and privacy policy, external before accepting. To view this content choose 'accept and continue'.
The BBC is not responsible for the content of external sites.
End of twitter post by George Galloway
The former MP says he's received information about Philip Cross and that the reward has already been claimed, but that he is not revealing the personal details of the person behind the account.
When it comes to Galloway's page, the Philip Cross account is responsible for 20.4% of all edits.
But it's difficult to get an overall sense of whether those changes were solely motivated by any particular political bias on behalf of the person behind the account.
For example, a sentence where Galloway criticised the Labour Party as "Tony Blair's lie machine" was removed, with Cross citing "partial repetition, poor source".
In another case, Cross removed links to lurid tabloid headlines about Galloway's private life.
In addition, many of the edits were simply grammatical or stylistic. At one point Cross noted: "It helps the article if each sentence or paragraph does not begin with 'Galloway' or 'He'."
Wikipedia, which was launched in 2001, relies on volunteers to write and edit entries. Wikipedians have developed an enormous set of rules and procedures guiding the development of a site which now has more than 5.5m articles in English.
In addition to his Wikipedia edits, Philip Cross has a Twitter account which he has used to interact with Galloway and other politicians and journalists. In one tweet, for instance, he called a group of anti-war activists "goons".
That raised claims of a conflict of interest, which is potentially against Wikipedia guidelines. The account is currently subject to a review process run by Wikipedia volunteers, although Philip Cross has promised to stop editing Galloway's entry for an "indeterminate length of time regardless of any decision".
The Wikimedia Foundation - which established and funds Wikipedia - declined an interview request, but said in a statement:
"Independent volunteer editors consistently monitor Wikipedia, often aided by technology, to ensure its articles remain neutral and well-sourced for the hundreds of millions of people who rely on it every month.
"If repeat violations to Wikipedia policies do occur, volunteers have a variety of mechanisms to draw from, including issuing warnings and blockings, to address content and behaviour that does not meet Wikipedia standards."
On Twitter, Wikipedia's co-founder, Jimmy Wales, rejected claims that Philip Cross is making entries biased.
The BBC is not responsible for the content of external sites.
Skip twitter post 2 by Jimmy Wales
Allow Twitter content?
This article contains content provided by Twitter. We ask for your permission before anything is loaded, as they may be using cookies and other technologies. You may want to read Twitter's cookie policy, external and privacy policy, external before accepting. To view this content choose 'accept and continue'.
The BBC is not responsible for the content of external sites.
End of twitter post 2 by Jimmy Wales
Of course there's only one person who could definitively lay to rest questions about the origins of the account - and that is Philip Cross himself.
BBC Trending has been able to establish that he lives in England, and that Philip Cross is not the name he normally goes by outside of Wikipedia. We made several attempts to contact him via Twitter and via an intermediary - but he declined to comment for this story.
Reporting by Jonathan Griffin and Lee Kumutat
Anna Scanlon created videos about her vegan lifestyle. But after she fell out with a rival vegan vlogger, he started to spread rumours about her. The social media companies took no action - so what did she do next?READ NOW