Teacher's final wish granted with backpacks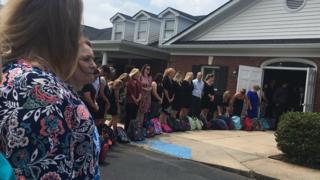 A US teacher's final request has inspired people across the world.
Tammy Waddell, from Georgia, died earlier this month, aged 58, after battling cancer.
Instead of flowers, the elementary school teacher's friends, family and colleagues were encouraged to donate school supplies to students in need.
A widely-shared picture shows dozens of backpacks, filled with donated items, lining the aisles at her funeral as attendees honoured her wishes.
Writing on Twitter, Ms Waddell's cousin described her as a "teacher to the end" in a post that attracted thousands of likes and comments.
"She had about 100 teachers as honorary pallbearers who carried the backpacks out and back to their schools," he said.
"It was heart-warming."
Former and current students were among those to pay tribute.
"Mrs Waddell was my favourite teacher," one wrote.
"She made such an impact on me and taught me everything. I loved to see her welcome us to class and always bring a smile."
"I couldn't have asked for a better mentor and friend," a former colleague said.
The picture was reposted to Reddit, where the story quickly struck a chord. So far, it has accrued more than 100,000 upvotes - the social media platform's measure of popularity.
"We need more Tammy Waddells in the world," read one popular response.
You might also like:
Others demanded more funding for education, with many sharing stories of the impact teachers had on their lives.
"My dad was a teacher for 25 years and my sister currently teaches high school," one Reddit user wrote.
"I know the passion they share to simply make our future generations better. I have so much respect for teachers and you can tell Mrs Waddell positively impacted hundreds of lives.
"Her legacy will continue with those kids and her colleagues."