The Reddit boss and the hate speech row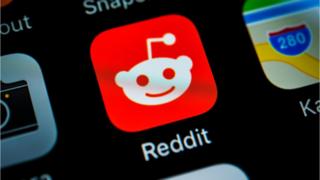 Reddit CEO Steve Huffman has said banning hate speech was "not really done" and "an impossible precedent to uphold".
Mr Huffman was responding to questions from Reddit user Zachary Swanson via direct message on Saturday.
After the US 17-year-old published images of the exchange, his account was yesterday suspended for a week.
Reddit has not responded to questions on why the user was suspended.
Asked why Reddit did not ban hate speech, Mr Huffman said it was "difficult to define".
"There's a reason why it's not really done," he said.
"Additionally, we are not the thought police. It's not the role of a private company to decide what people can and cannot say."
Facebook, Twitter, Instagram and YouTube all have specific policies prohibiting the use of hate speech on their platforms, though critics say these policies are often not effectively enforced.
Reddit bans content which "encourages, glorifies, incites, or calls for violence or physical harm". But it stops short of banning hate speech outright. In April, Mr Huffman confirmed the use of racial slurs did not contravene the site's rules.
"On Reddit, the way in which we think about speech is to separate behaviour from beliefs," he said at the time.
"Our approach to governance is that communities can set appropriate standards around language for themselves. Many communities have rules around speech that are more restrictive than our own, and we fully support those rules."
You might also like:
Mr Huffman's latest refusal to prohibit hate speech outright - and the suspension of the Reddit user who asked him to - has reignited a free speech debate among the site's users.
Posts on the subject on popular subreddits have attracted tens of thousands of reactions and significant discussion.
'Draw a line'
Some of those commenting supported the site's stance in the name of freedom of expression. Others accused Reddit of ducking its responsibilities to its users.
"I think they don't care," Mr Swanson told the BBC.
"When it comes to free speech, the admins can make their own rules.
"Facebook draws a line. Twitter draws a line. Why doesn't Reddit... draw a line?"
Reddit has previously banned communities on the site which fell foul of its rules. In 2011, /r/Jailbait, a repository for provocative images of teenagers, was banned after one user offered to share naked images of an underage girl.
More recently, /r/Incels - a forum for "involuntarily celibate" members to discuss their sexual insufficiencies which frequently featured violent misogyny - was one of many subreddits banned in 2017 after a revision to Reddit's policy on violent content.
However, other controversial subreddits remain online, including /r/The_Donald - a 628,000-strong community of Donald Trump supporters in which overtly racist imagery and white nationalist views are sometimes shared.
In 2016, Mr Huffman sparked controversy amongst Reddit members by editing comments made about him there.
Reddit was co-founded by Mr Huffman and Alexis Ohanian in 2005. It is the fifth most-visited website in the United States and the eighth in the United Kingdom, according to analytics company Alexa and features over 1.2 million subreddits.
Reddit has been approached for comment but had not responded by the time of publication.