World Cup: Does Croatians' #GloryToUkraine message help or hinder?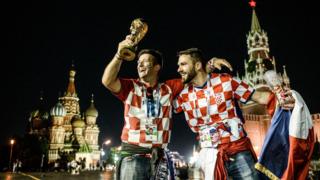 As Croatian football fans get ready for the World Cup final at the weekend, some are wondering whether they have been boosted by bringing up the conflict in Ukraine.
National pride, the Russian spy poisoning case, and the Ukraine crisis all had a role in fans' feelings as Croatia defeated England in Wednesday night's semi-final.
Meanwhile, some Ukrainians who have been boycotting the World Cup in Russia, are now torn on whether to watch Sunday's game.
Shortly after Croatia defeated Russia on penalties in the quarter finals, defender Domagoj Vida and coach Ognjen Vukojevic - who have each played for FC Dynamo Kiev - dedicated their win to Ukraine on YouTube from their changing room.
The clip has been viewed more than 3.5 million times since it was posted on 7 July.
A hashtag - #GloryToUkraine - followed, bringing mixed reaction on social media.
Ukrainian TV executive Oleksandr Tkachenko praised the players on Facebook, saying it was "nice they stopped the hosts of this strange World Cup".
Fifa reviewed the video and issued a warning to the players. Ognjen Vukojevic was fined $15,000 (£11,360) and sent home by Croatia.
Then Vida appeared to do the same thing again. He has since apologised in a live interview with Rossiya 24 state television after the semi-final.
You might also like:
Ahead of the match against England, some Russian Twitter users said they would refuse to cheer for Croatia.
Some Russian supporters have made it clear they want anyone to win except Croatia.
Konstantin Knyrik of Russian news agency NewsFront tweeted: "I don't even want to watch the 'Novichok' team playing against the 'Glory to Ukraine' team, let alone to cheer for one of them! Too bad they can't both lose."
However, Igo Stokor, a blogger in Kiev, claimed the pro-Ukrainian slogan helped the Croatians against England.
The head of Ukraine's football governing body, Andriy Pavelko, agreed that "luck comes to those who love and respect Ukraine".
Sergiy Karazy, a journalist in Kiev, has steered the debate to Sunday, asking in jest whether to continue the World Cup boycott or to install a big screen in Maidan, Kiev's Independence Square.
The question now is what will the support be like during the final, since Russian supporters in the stadium appeared to boo Vida's every touch of the ball against England.
One pro-Kremlin Twitter user joked that if Vida could pray for supporters in the final, God would have a few words in his ear, then 40 million people would cheer.