Blind student's mother gets honorary law degree with daughter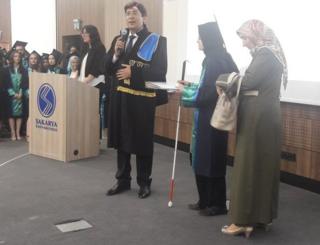 Images of a mother receiving an honorary degree at the University of Sakarya in Turkey, alongside her visually impaired daughter, have been shared tens of thousands of times across Facebook, Twitter and Reddit.
Professor Mahmut Bilen, who presented the award to Berru Merve Kul and her mother Havva, shared a video of the ceremony.
The university wanted to show appreciation and recognition to Berru's mother for reading her daughter's lecture notes during her four-year course.
News coverage of the award has been liked more than 58,000 times on Reddit and one blogger's tweet calling Havva Kul "mother of the year" has been liked more than 88,000 times.
Another user would give her a higher ranking, "not just the mother of the year but of the century."
You might also like:
On Reddit, the mother's dedication was applauded, with one user slightly in awe of her dedication: "I once tried to read a chapter out of a legal textbook and almost passed out."
Some thought the "honorary" degree was not enough. One tweeted the mother should also be given a diploma.
An outpouring of praise has continued, with comments such as: "The world is turning for these beautiful people," and "There are no words to define this perfect mother."
On Facebook, Emrah Akdogan could appreciate the pair's hard work and Tabularin Yikilisi added, "What a wonderful mother you are."
Meanwhile, there were some negative comments from users who criticised the authorities for not giving enough support to visually impaired students.
One called for more support in the form of reading material in Braille and audio sources in libraries and computer rooms.