Blind student's mother gets honorary law degree with daughter
By Sherie Ryder and Dilay Yalcin
BBC UGC & Social News and BBC Monitoring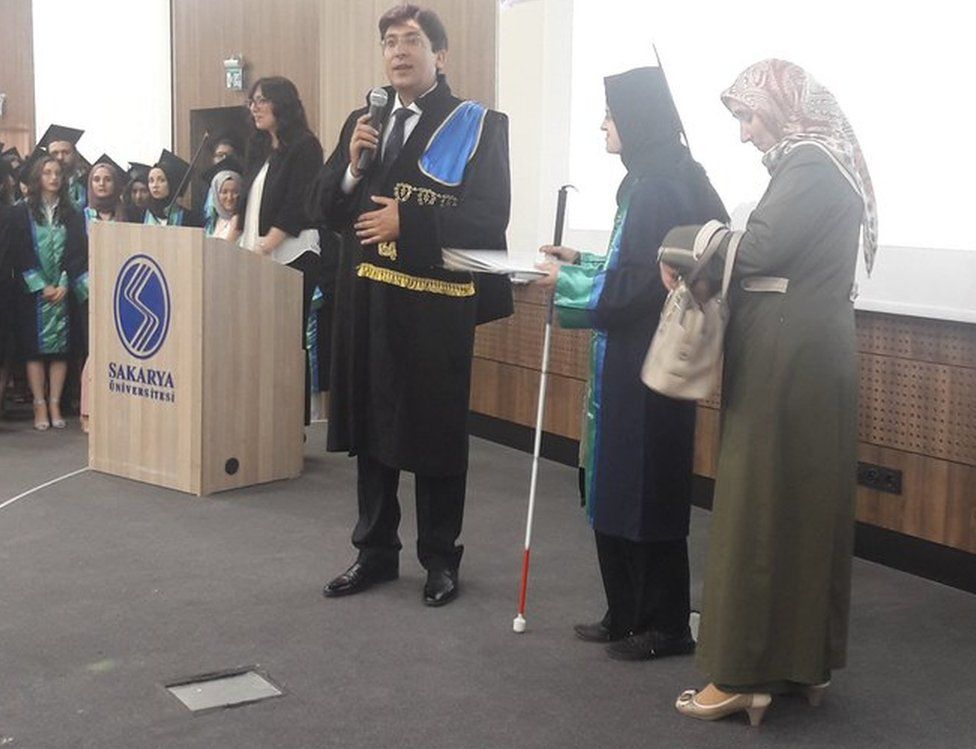 Images of a mother receiving an honorary degree at the University of Sakarya in Turkey, alongside her visually impaired daughter, have been shared tens of thousands of times across Facebook, Twitter and Reddit.
Professor Mahmut Bilen, who presented the award to Berru Merve Kul and her mother Havva, shared a video of the ceremony.
The university wanted to show appreciation and recognition to Berru's mother for reading her daughter's lecture notes during her four-year course.
Check out this awesome video: Görme engelli kızına destek olan anneye fahri mezuniyet belgesi - SAKARYA https://t.co/90jp8f4BjV Fakültemiz mezuniyet töreninde kamuoyunda büyük ilgi gören mütevazı belge ve teşekkürümüzün özet video görüntüsü

— Mahmut Bilen (@Bilenmah) July 13, 2018
News coverage of the award has been liked more than 58,000 times on Reddit and one blogger's tweet calling Havva Kul "mother of the year" has been liked more than 88,000 times.
Bu fotoğraftaki anne var ya, görme engelli kızına, tüm hukuk metinlerini defalarca okuyup onu çalıştırarak kızının 4 yılda fakülteyi bitirmesini sağlamış.
Yılın annesi bence.
Sözün bittiği yer...

Yer: Sakarya Üniversitesi... pic.twitter.com/1AYRC0Z4YY

— Havva Koç (@Kochavva) July 11, 2018
Another user would give her a higher ranking, "not just the mother of the year but of the century."
Bence sadece yılın değil
Yüzyılın annesi olabilir.

— II. Murad (@YtMrT04) July 11, 2018
On Reddit, the mother's dedication was applauded, with one user slightly in awe of her dedication: "I once tried to read a chapter out of a legal textbook and almost passed out."
Some thought the "honorary" degree was not enough. One tweeted the mother should also be given a diploma.
Anneye de diploma vermek lazım.

— akadirbulus (@akbulus) July 11, 2018
4 yıl boyunca görme engelli kızına hukuk kitaplarını okuyan, onu çalıştıran Anneye fahri diploma verilmiş. Üniversiteye ve rektörüne nasıl güzel bir cümle kursam diye düşünüyorum. Her kelime az geliyor. O mükemmel Anne için zaten söylenebilecek karşılığını anlatacak kelime yok.

— ABdullah İNCEBİZ (@abdullahincebiz) July 12, 2018
On Facebook, Emrah Akdogan could appreciate the pair's hard work and Tabularin Yikilisi added, "What a wonderful mother you are."
Meanwhile, there were some negative comments from users who criticised the authorities for not giving enough support to visually impaired students.
One called for more support in the form of reading material in Braille and audio sources in libraries and computer rooms.
Takdir edilesi bir destek ve başarı ama asıl olması gereken okullarda braille alfabesiyle yazılmış kitapların, sesli kaynakların bulunduğu kütüphane ve bilgisayar odaları olması, insanların başkasının desteğine ihtiyaç duymadan eğitim almalarının sağlanması.

— ismail alacaoglu (@siradanbiroteki) July 11, 2018