Starbucks to open its first US sign-language store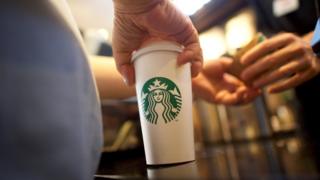 Starbucks is due to open a new store in the US where all staff will be able to communicate with customers in sign language.
The store, the company's first of its kind in the US, will hire at least 20 staff, all of whom need to be proficient in American Sign Language (ASL).
Starbucks said the move would provide "employment opportunities" for deaf and hard-of-hearing people as part of the company's "commitment to inclusion, accessibility and diversity".
It won't be the first store where all employees are sign-language users. Starbucks already has a sign language-friendly branch in Kuala Lumpur, Malaysia, while the entire staff of Mozzeria, a pizza restaurant in the US, are also sign language users.
While the menu at Mozzeria includes some sign-language images to help customers communicate, Starbucks will also offer customers alternative communication options for ordering and receiving their coffee.
The new store will be located near Gallaudet University, the world's only university designed for deaf and hard-of-hearing students, in an area where a variety of businesses are learning to work with the deaf community and are providing deaf-friendly services.
You may also like:
Many people have applauded the announcement. Howard A Rosenblum, the chief executive of the National Association for the Deaf in the US, told the Washington Post: "Starbucks has taken an innovative approach to incorporating deaf culture that will increase employment opportunities as well as accessibility for deaf and hard-of-hearing people."
The British Deaf Association echoed his sentiments, adding: "There is still a long way to go, particularly in the UK where deaf British and Irish sign-language users are not afforded parity of access with hearing consumers across many sectors. We hope that other businesses look to Starbucks' example."
The move has also been discussed on social media.
Deaf Oscar-winning actress Marlee Matlin welcomed the development, tweeting: "Can't wait to order my hot chai latte in sign." Shoshannah Stern, a deaf actress and co-creator of This Close, a deaf-led TV series, also tweeted her enthusiasm for the new store.
However, some have questioned why other stores don't have a sign-language training programme and asked for every store to hire signing employees.
Another tweeter wanted to know what the company was going to do for those with physical disabilities.
However, the author of this piece - a native British Sign Language user - would still choose the place with the best coffee over the barista's ability to sign.