Reddit sleuth identifies car part, leading to hit-and-run arrest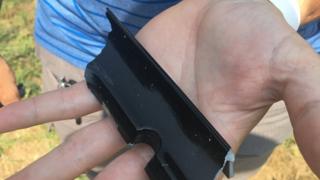 US Police have made an arrest in a fatal hit-and-run case after an obscure part of a car headlight was identified by a social media user.
On Thursday 9 August, Washington State Police appealed on Twitter for information after a cyclist was hit by an unidentified black vehicle.
Officers shared a photograph of a small piece of metal recovered at the scene.
However, it was after the image was posted to Reddit that a breakthrough came.
The photograph was shared in the sub-Reddit "WhatIsThisThing", which is dedicated to identifying obscure objects, plants and animals.
You may also like:
Jeff, who goes by the user name /u/JeffsNuts, responded to the post, identifying the black piece of metal as a section of a "Chevy Silverado headlamp bezel".
The user posted an image of the car part as part of his reply.
Jeff explained that he had "been a Maryland state vehicle inspector for a long time" and was au fait with inspecting car headlights.
On 14 August, Washington State Police trooper Johanna Batiste posted to Twitter that "detectives made an arrest" after "Reddit users identify a photographed broken car part". A local anonymous tip off then confirmed Jeff's analysis.
Jeff told the BBC that while he "had been having a bit of fun with the whole thing", he just wished the tragic incident "hadn't happened at all".
He is also keen to point out that the person who shared the image on Reddit originally "deserves as much credit" as he does.
Many people were shocked that anyone was able to identify such a small section of the car.
Others were pleased that social media was acting as a force for good.
The post identifying the car has been liked thousands of times on Reddit, with many users sending Jeff messages of congratulations.
Others described the identification leading to an arrest as the "coolest thing" and "seriously wholesome".