'You don't want to be Chinese any more'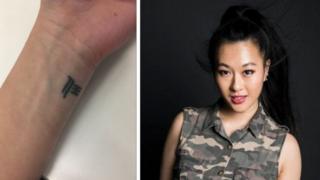 When Kimberly Yam saw the box office hit Crazy Rich Asians, she thought back to a feeling she had often as a child - 'I don't want to be Chinese any more'.
"You're eight years old. Your third grade class orders Chinese food and your father delivers it. Apparently other kids don't think he's so cool. They laugh at you and mimic his accent," she began her story on Twitter.
She described racist incidents she experienced when growing up, from children making comments about her Asian appearance to teenagers dressing as Chinese tourists for a Halloween party.
It was only when she went to university that she realised how much she'd rejected her family heritage. "It's a race to reclaim everything you've hated about yourself. For the first time, you want to be Chinese," she recalled.
By the age of 20, she had tattooed her family's name in Chinese on her wrist: "You won't let anyone make you feel the way you did all those years ago. You love being Chinese."
You might also like:
Watching Crazy Rich Asians, which has an all-Asian cast, when it was released last week made her cry non-stop. "You've never seen a cast like this in Hollywood. Everyone is beautiful. You're so happy you're Chinese," she concluded.
The Huffington Post journalist posted her thread on Friday, where it has clocked up a huge reaction of more than 112,000 shares and more than 360,000 likes.
Ms Yam's experience of learning to love her cultural background prompted others to reflect on their own childhood.
"It took me a long time to feel comfortable saying I was Jewish. People made fun of me when I was younger," wrote @michgeo
Another Twitter user described hurtful stereotypes about the Philippines he was exposed to as a child.
Others shared their excitement about Crazy Rich Asians.
One user described her hope that her German-Korean family embrace their heritage: "My son loves the traditions of both cultures including being a proud American. It is a great time for people of Asian descent."
"I can only imagine what my life would have been like if I saw Asian [people] on TV, in movies, music, and fashion magazines while growing up. We were nowhere. Crazy Rich Asians, All the Boys I Loved Before and Kim's Convenience are a great step forward," wrote @unarose7.