'Sexualised' niqab hero gets makeover after costume criticism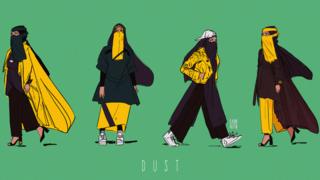 Sara Alfageeh, from Boston, USA, has always loved comics. As a child, she used to "run home from the library with stacks of them".
But the recent depiction of one character annoyed her so much she chose to take matters into her own hands.
In a tweet, Ms Alfageeh vented her frustration with the way the X-Men character Dust was drawn.
Dust, a mutant from Afghanistan, is described by Marvel as having a strong "respect for tradition".
Ms Alfageeh shared an image of Dust and asked: "Who looked at a niqabi character and still gave her the latex costume treatment?"
The question clearly hit a nerve with many other comic book fans.
A number agreed that the design of Dust's outfit was not reflective of a realistic niqab and took issue with the form-fitting outfit.
Ms Alfageeh told the BBC she was annoyed the artist had "felt the need to sexualise Dust" and make her "clothes cling to her body".
One Twitter user said: "No female artist would ever pretend that's how boobs work."
While another pointed out having tight material on one's chest would be "so uncomfortable in the desert".
Twitter user Anile expressed concern that the tightness of Dust's abaya (long robe) would restrict the superhero's ability to breathe.
Ms Alfageeh, "fuelled by bitterness and a deep love of street fashion", decided to take matters into her own hands and redesign the hero's attire - echoing a recent trend on social media to redraw comic book characters seen as sexist.
Her images of Dust have been liked nearly 20,000 times on Twitter. And hundreds of people have replied to praise the "amazing" images.
Many young Muslim women commented to applaud the fashionable designs.
While most responses to Ms Alfageeh's tweet were to congratulate her, others pointed out the superhero remained "problematic".
Despite being a popular character in the X-Men universe, Dust has previously drawn criticism for being poorly researched.
For example, Marvel lists her place of origin as an "unrevealed location in western Afghanistan".
However, Dust speaks in Arabic, rather than Pashto or Dari, which are much more commonly spoken in Afghanistan.
You may also like:
Ms Alfageeh's images have caught the attention of a number of high-profile comic book authors.
Zac Thompson, who has written a number of Marvel comics including editions of the X-Men series, replied to the tweeted designs to say they were "dope".
Ms Alfageeh, who is an artist, said the positive reaction had been "really exciting".
She said she had known she had "nailed it" when young Muslim women told her they identified with the outfits.
"I wanted to give Dust lots of attitude in my drawings." she said.
"A woman who wears the niqab needs that attitude and thick skin just to walk down the street."
The images also started a conversation about the importance of "diverse creators" who were able to properly reflect the cultural backgrounds of characters.
Ms Alfageeh agrees it's hard to represent different cultures authentically when those people aren't "involved in the creative process".
Marvel has introduced more LGBT and ethnic minority characters in recent years, including Ms Marvel - a young Muslim woman.
Ms Marvel has been well received by fans. And Ms Alfageeh agrees that the hero is an example of Marvel succeeding in representing minority groups with "well written three-dimensional characters".
She jokingly said she was "doing it for the kids" but very seriously believes that the young people "carrying stacks of comics" like she did have "every right" to feel represented.