Frank Lampard photoshop used to promote New York park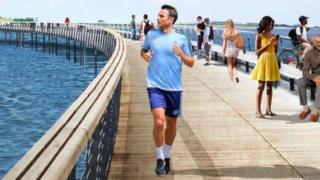 Did they really think no one would notice?
New York Governor Andrew Cuomo has released a series of pictures imagining what the upcoming Shirley Chisholm State Park will look like.
The images have been mocked online for their jarring combinations of computer-generated backdrops and real people, but one particular portrayal has caught the attention of football fans on social media.
It features a waterfront, a bridge, and Derby County manager Frank Lampard on a jog.
It did not take long for people to notice the former England and Chelsea midfielder clad in his old training kit for New York City FC.
The original photo of Lampard was taken in 2015, when he was on a jog in New York's Central Park accompanied by a trainer, during his spell playing in the city.
The image used by Governor Cuomo's website has been flipped, causing the New York City FC crest appear on the opposite side of the shirt.
Arielle Castillo, who worked for Major League Soccer when Lampard played for the Pigeons, was one of the first to point out the surprise appearance.
The jokes came quickly as people online highlighted the "really bad" editing of the images.
One Twitter user labelled the person responsible for the manipulations "my new hero", while another wondered why Governor Cuomo did not employ more talented staff.
A "photoshop" is a common term to refer to an edited image, named after the eponymous computer software by Adobe.
A poor-quality photoshop can often easily be spotted when part of an image appears out of place, often because of differences in lighting, shadows and image quality.
You may also like:
But some people found another reason to cast aspersions on the legitimacy of this image - joking that Lampard was not known for moving quickly during his time in New York.
Lampard may be one of the most high-profile players to have played for New York City FC, but some on Twitter remain uncertain why he has been used in promotion of the state's public spaces.
The BBC has contacted Governor Cuomo's office for comment.
However, Lampard is not the first public figure to have their image appropriated.
In December 2016, US broadcaster NBC used an image of Ed Miliband, former leader of the UK Labour Party, blowing his nose to illustrate a news story about flu.
In August 2017, news website Vox published a story about US healthcare, using an image of Scottish First Minister Nicola Sturgeon during a visit to a Glasgow laboratory.
And in 2014, a BBC article about male obesity featured an image of a man's waistline, which turned out to be of then-Schools Secretary Ed Balls from 2008.