K-pop: HyunA sacked over relationship controversy
By Tom Gerken, UGC & Social News
And BBC Korean Service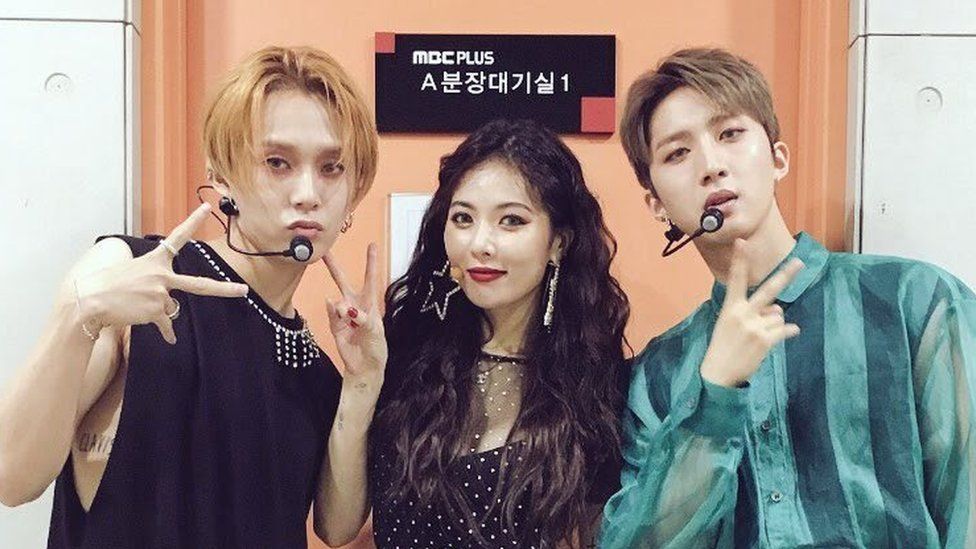 K-pop singer HyunA has been sacked by her record label after her relationship with bandmate E'Dawn became public knowledge.
Many K-pop artists - often known as "idols" - are not allowed to enter into any form of romantic relationship while under contract.
In September, Cube Entertainment said no decision had been made to "oust" HyunA (Kim Hyun-ah) or E'Dawn (Kim Hyo-jong), after it emerged the pair had been in a secret relationship for over two years.
"We sincerely thank the artist who has been with us until now and fans once again," said Cube Entertainment in a statement.
No public announcement has yet been made on the contract of E'Dawn, who is signed to the same label.
After news broke of her sacking, HyunA posted a short video on Instagram of her and E'Dawn together.
Cube Entertainment CEO Shin Dae-Nam previously said in September 2018 that singers HyunA and E'Dawn had not been sacked by the company.
The head of the major South Korean music label denied reports that HyunA and E'Dawn, two members of the pop trio Triple H, were sacked after revealing their relationship.
"We've yet to make an official decision on the rumour that HyunA and E'Dawn would be ousted," read the statement on Naver, a major South Korean website.
"We are still discussing it, it is not a confirmed decision. Since the opinions of the artists are also important, this should be deliberately decided through the process of collecting opinions."
HyunA has had a successful solo career and E'Dawn is also known as a member of boy band Pentagon. The pair formed Triple H as a side project with fellow Pentagon singer Hui.
The relationship was revealed by HyunA, confirmed in a post on Instagram, telling her followers she "wanted to stay honest".
The change comes after many on social media specifically pointed to the fact HyunA has worked for Cube Entertainment for far longer than the CEO.
Cube's current CEO has been there for 2 years. Hyuna has been there for 11.

— jessie (@softhyuna) September 13, 2018
The decision to sack the pair was heavily criticised. Some fans defended HyunA by asking how her work for Cube Entertainment could be ignored simply because she was in a relationship.
hyuna has been with cube since 2009 and she has given them her blood sweat and tears worked with them in trust and faith and they just spat in her face right now by saying they can't recover faith and truth in her because she decided to be honest about her love life

— ☕️ (@95lattae) September 13, 2018
Others came to the defence of E'Dawn, with fans referencing his struggle to land a contract with the label on TV show Pentagon Maker - a reality talent show where people competed to be part of the band.
Todays mood is me sitting in bed in my pikachu onesie rewatching pentagon maker while listening to every single one of pentagons ballads and sobbing so much that I cant move a muscle at the end of the day#CubeIsOverParty

— Jung Wooseoks Necklace (@WooseoksNeklace) September 13, 2018
@cubeunited hello can you please think more wisely? I don't want to be sad again, please do know that i cried my lungs out during pentagon maker just bc you 'eliminated' a member

— 🇧🇳 (@ppungeo_) September 13, 2018
Those not familiar with K-Pop might recognise HyunA from her appearance in the music video for Psy's crossover hit Gangnam Style, where she can be seen dancing on an underground train before joining Psy in a larger routine.