Dunkin' Donuts workers sacked after homeless man drenched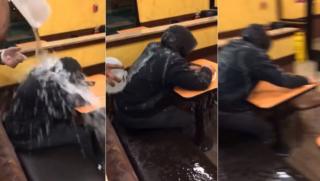 Dunkin' Donuts has fired employees after a video emerged on social media showing one worker pouring water over a homeless man inside a New York branch of the fast-food chain.
"How many times have I got to tell you to stop sleeping in here?" asks the worker before using an offensive term and threatening to call the police.
The footage of the incident, posted on Facebook on Sunday night, has been viewed more than 2.6 million times.
Jeremy Dufresne, 25, sleeps rough in the neighbourhood and uses the Syracuse branch of Dunkin' Donuts to get warm and charge his phone so he can call his mother each evening.
He told Syracuse.com he hadn't been sleeping but just resting his head on a table and had been shocked when the worker had poured the water over him.
"I grabbed my stuff and left," he said. "He probably had some personal problems of his own and needed someone to talk to. And he took it out on someone else, like me."
Mr Dufresne added he had schizophrenia and had struggled to stay off the streets since high school.
---
You might also like:
---
He has since been given support both in the neighbourhood and online.
A local homeless outreach group staged a protest with placards at the Dunkin' Donuts on Monday.
And a fundraiser set up on Go Fund Me to raise $150 has raised nearly $6,000 (£4,600).
Kimberly Wolak, the Dunkin' Donuts franchise owner, said: "We were extremely disturbed by the behaviour of our employees captured in the video."
"It not only violated our written policies but goes against our core values as an organisation.
"We will be contacting the individual in the video to apologise for the negative experience."
Ms Wolak added employees would receive training on how to engage with homeless people.