Russian journalist ridiculed on Reddit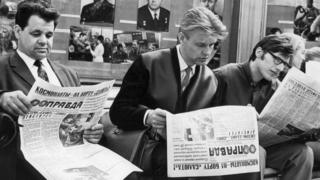 On Wednesday, Dmitry Sudakov posted on Reddit he was the editor of "Russia's leading newspaper Pravda" and invited people to ask him anything.
As with many high-profile, audience-question interviews on the Ask Me Anything (AMA) section of the site, it was an attempt to promote his work in front of a largely Western audience.
Instead, Sudakov's "independent" news website was accused of being a tool of the Russian state and its articles, and his replies, were mocked by many of the 5,000 comments on the interview.
Sudakov also had to explain his website - Pravda.ru - was not the same Pravda as the Soviet newspaper of the same name.
You might also like:
The AMA subreddit is one of the mainstays of Reddit where anybody can invite users to hit them with any question they want. A whole host of famous people have taken part, including US President Barack Obama and astronaut Buzz Aldrin.
But while AMAs can often be quite moderate affairs, Sudakov was immediately met with a hostile response from Redditors.
Most of the contention was over whether his website was simply a propaganda outlet for the Russian state.
Sudakov was asked by one user what people could do to make sure what they read was accurate and truthful.
"I would say try to read an alternative view on a subject and try not to think inside the box," he said.
"Are these actual headlines in Pravda examples of 'an alternative view'?" replied one comment, listing stories published on the website such as Aliens forced Americans out from the Moon in 2007 and Nuclear strike hits Yemen in 2015.
Sudakov defended his website, saying: "We were trying to attract readership to our publication - and we resorted to that tool of those sensationalist stories too."
He added Pravda.ru "stopped publishing stories like those a while back".
When another comment asked what role his newspaper played "now that toilet paper is readily available" in Russia, Sudakov replied: "We're only online."
He also responded to accusations his publication was controlled by the Russian state, saying: "We support Russia's foreign policy but we can be critical of the government and the Kremlin about domestic issues."
---
Russian website Pravda.ru, is one of two current media outlets that claim to be successors to the Soviet newspaper of the same name. The other claimant is the newspaper Pravda, which is owned by the Russian Communist Party.
The two are often confused, which led to US senator John Mcain writing an opinion piece in Pravda.ru, criticising Russian President Vladimir Putin, in 2013.
---
Sudakov continued later on to say it was "upsetting that people think of him [Vladimir Putin] as a dictator" and he highlighted Mr Putin's plan to increase the age of retirement as an issue where his publication had criticised the president.
He was also asked his view on the suspicious deaths of journalists in Russia.
Sudakov dismissed the question and suggested many of the deaths could be over "personal affairs".
Russia is ranked 148th country by the World Press Freedom index, which describes it as having a "stifling atmosphere for independent journalists".