HimToo: How Pieter Hanson's mother made him internet famous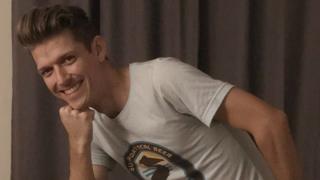 If you've seen some weird posts about sons on social media with the hashtag #HimToo, you might be justified in feeling a bit confused.
"This is MY son", begin the majority of tweets, before listing the achievements of everyone from horror villain Norman Bates to Back to the Future's Marty McFly.
It all began with a post from a concerned US mother on Twitter.
Speaking to the BBC about his newfound internet fame, Florida resident Pieter Hanson answered the question on everyone's mind.
"I'm not afraid to go on dates!" he joked. "It's my mum just being a little silly, I wouldn't put too much thought into it."
A "little silly" maybe but the parodies soon appeared, with everyone's favourite pop star/meme icon Rick Astley becoming one of the most popular recreations.
Others soon followed, with a parody of comedian Nathan Fielder proving a particular highlight - but credit must go to comedy writer Emlyn Crenshaw for her creative effort.
The "current climate of false sexual accusations" in the original tweet may have been referring to controversy surrounding the appointment of new Supreme Court Justice Brett Kavanaugh in the United States.
US President Donald Trump has since labelled sexual assault claims against Kavanaugh a "hoax", with conservative commentator Candace Owens popularising the hashtag #HimToo to defend the judge.
The issue has become so divisive that it was perhaps unsurprising when 'BlueStarMom3' faced a backlash on Twitter.
But few on social media paid much thought to the person in the photo who was swiftly becoming the face of #HimToo.
So he set up a Twitter account to set the record straight, complete with a recognisable pose.
Peter said of his mother's tweet: "I was dumbfounded when I saw it, but at the end of the day we all have crazy parents.
You may also like:
"I still love her. She's my mum. What she said was pretty inflammatory, but I want to make sure it doesn't come back harsh on her.
"So we figured we'd have some fun with it. My brother Jon was an incredible voice of reason."
And Pieter said that he was using the experience to "change the negative into a positive".
"I've been working for years to support the Leukaemia & Lymphoma Society," he said. "My little brother is a cancer survivor.
"I've had limited reach, but now with this it's a good opportunity to support a cause I really believe in.
"I'm trying to use this as an avenue to raise awareness for my little brother. He's an incredible person, and he's my personal hero."