Anna Dovgalyuk: Why do people think her 'manspreading' video is a Kremlin hoax?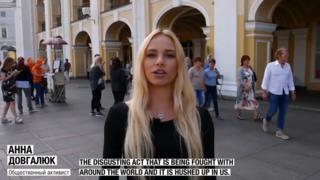 Millions of people around the world have watched a viral video that appears to show a woman taking direct action against "manspreading". So why do some think it is actually Kremlin-backed disinformation?
A woman creeps up to unsuspecting men on the St Petersburg Metro. The men are taking up lots of space, with their legs wide open. Before they can react, the woman dumps a bottle of diluted bleach onto their trousers. It's enough to make a stain, although not strong enough to cause serious injury.
The video was made by Anna Dovgalyuk, a Russian activist, student and social media star. And it racked up millions of views before being removed from YouTube.
The story was picked up by numerous news websites and caused a huge online uproar. Comments heaped praise, scorn, and more extreme threats of violence on Anna and others involved with the video.
But along with the video's viral spread came questions. Was it staged? And also was it - as some believe - a crafted piece of propaganda, sponsored and spread by the Russian government? And if it was, what was the aim?
YouTube activism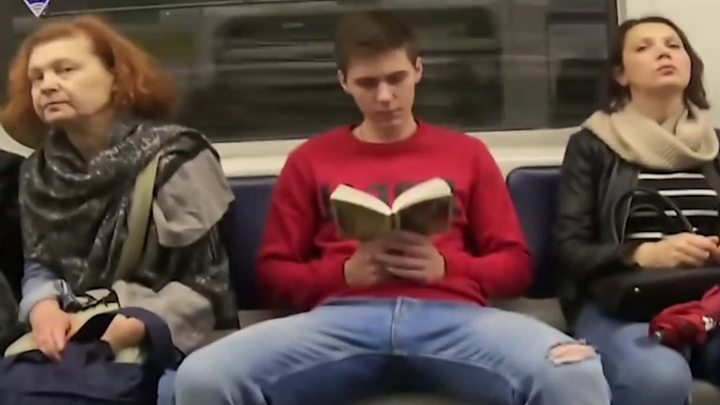 Anna Dovgalyuk is relatively new to YouTube activism. The video was only her second post on the platform. Her first also had a feminist theme, and was also shot on the St Petersburg Metro. It was a protest against upskirting - taking photos up women's skirts - and showed a model (not Anna) lifting her dress to show passengers her underwear.
That video also got a lot of coverage, and prompted Anna to turn her attention to a project attacking "manspreading" - the phenomenon of men on public transport who sit with their legs wide open or otherwise inconvenience fellow passengers by taking up too much space.
"I thought that it was one of those problems which should be highlighted, that people should be made aware of," she told BBC Trending.
The video went up in late September, and was clocking up views at a rate of a million a day. But almost immediately, questions were raised about its authenticity.
An online news outlet in St Petersburg called Bumaga quoted a man who supposedly appeared in her video, admitting that he was paid to sit on the train and get squirted. Bumaga reproduced a post by the man on the Russian social network Vkontakte. (His account was deleted and the BBC could not immediately reach the man for comment).
Additionally, in the video, Anna states that it was created "in assistance with friends who share my position."
Speaking to the BBC, she denied that it was staged or that anyone was paid to get diluted bleach thrown on them.
"This is some completely random guy," she says, "I don't know what kind of actor he considers himself to be... but there is no evidence, it's just somebody's claim."
---
You may also be interested in:
---
'Staged Kremlin propaganda'
The story took another turn when a European Union project to combat Russian misinformation, EUvsDisinfo, called the video "staged Russian propaganda".
According to this theory, the stunt was part of the Kremlin's surreptitious online interventions into various culture wars around the world, and designed to provide evidence that Western-style feminism has gone too far.
The EUvsDisinfo report gave the video another burst of publicity - and several of the same outlets which credulously reported on the video when it went viral ran reports with the European Union's take.
EUvsDisinfo cited two main pieces of evidence: the Bumaga report, and also the fact that the video was picked up and repackaged by a Kremlin-funded social media venture called In The NOW, which has more than three million likes on Facebook. In The NOW also has accounts on Twitter, Instagram, Snapchat and YouTube.
But In The NOW began as a TV programme on Russia Today - now known as RT.
RT and the news agency Sputnik, are directly funded by the Kremlin. Western governments as well as media critics have called them propaganda outlets.
And EUvsDisinfo sees the dark arts of the Kremlin at work in Anna's video and its treatment by In the NOW. "The video stages extreme feminist activism and manages to provoke extreme anti-feminist reactions," its post on the video concluded. EUvsDisinfo turned down a request for an interview about this story.
But is this a case of seeing Russian bogeymen where there are none? Wouldn't any social media company pick up on such clickable content?
In The NOW - which is based in Berlin - says that although it is financed by Russian government money, it has editorial independence.
"There's no top-down editorial memo that goes out, nothing like that," says J Ray Sparks, an American who is chief operating officer of Maffick, the German company that produces In The NOW. "It has never been some kind of propaganda outlet."
Although In The NOW doesn't deny that it receives money from the Russian government, this information isn't readily apparent on its Facebook page. When asked whether its mix of light-hearted stories and more serious news had ever included a video critical of Russian President Vladimir Putin, Sparks replied: "We haven't done anything recently."
In the NOW's video about Anna's manspreading stunt has racked up more than six million views.
---
More from BBC Trending
---
Pro-Putin Instagrammer
Anna Dovgalyuk's social media accounts are filled with glamorous selfies of her in fashionable clothes or swimwear.
But it would be a mistake to think Anna is from the Pussy Riot school of activism. Scattered throughout her Instagram and Vkontakte pages are posts praising President Vladimir Putin and Russian diplomats.
And despite her campaigning videos, she denies she's a feminist.
"Some people have said that my video is also very radical, and yes, that's true. But it's not in any way connected with feminism or the hatred of men," she tells BBC Trending.
"Right now, feminism is not about equality, it is about bad feelings towards men, hatred. I don't like this word very much, because of the way it was distorted. It's really been turned upside down."
It's a view often echoed by Russian state media: that feminism is a Western ideology focused on hating men and not compatible with traditional Russian values or culture.
But Anna also vehemently denies that her video was a propaganda stunt.
"It is utter idiocy," she says. "Seriously, it's a disgrace!"
She told the BBC she was called in and questioned by the St Petersburg police, but refused to say which police station she visited. The office of the head of the St Petersburg Metro Police told us they were unaware of any complaints being filed against Anna, and the press office did not respond to requests for further comment.
In response to a request for comment, the Russian embassy in London wrote in an email: "We do not clearly understand what exactly is this video propaganding. Moreover, the Embassy does not comment on videos of all 'social activists.'"
Political trolling
Although no evidence has surfaced that Anna Dovgalyuk set out to make a viral propaganda video at the behest of the Kremlin, the idea that an anti-manspreading video might be used by Russia for propaganda purposes is by no means farfetched, according to experts who study bot and troll activity.
Accounts linked to the Russian government and the Kremlin-linked Internet Research Agency have repeatedly been accused of whipping up political storms, particularly around the 2016 US presidential election.
In one noteworthy incident, rival Facebook pages - both allegedly connected to Russia - planned and promoted anti-Islam and pro-Islam rallies for the same time and place in Texas.
BBC Trending previously reported on the role of Internet Research Agency-linked accounts in promoting a hashtag in support of California's secession from the United States - an extremely fringe issue that suddenly became a top trend on Twitter just as it became clear that Donald Trump was about to win the 2016 election.
And the troll accounts have also plunged into hot-button cultural issues, amplifying divisive social debates.
Culture wars over Star Wars
Morten Bay is a research fellow at the Centre for the Digital Future at the University of Southern California. He examined Twitter activity about the release of The Last Jedi, a recent film in the Star Wars franchise.
As was widely reported at the time, some people took issue with the film's cast, which included a number of women and ethnic minorities in prominent roles.
Morten Bay found evidence that Russian bots and trolls targeted Last Jedi director Rian Johnson.
"Russian trolls have inserted themselves in American discourse online for a number of years," he told BBC Trending. "On a daily basis, regular Americans will go about their business and start caring [only] three weeks before an election. And so, if you want to get to those people, you kind have to get them where they are and that means going into pop culture... whether that's Star Wars, sports, or something else."
Bay's research was reflected recently when Twitter released a trove of 10 million tweets posted by suspected state-backed Russian and Iranian "troll farms".
An early analysis by the Atlantic Council, an American think tank, determined that messages from the troll accounts were in part "aimed at dividing polarized online communities in the US."
In addition, on Friday documents were released in the US outlining criminal charges against Elena Alekseevna Khusyaynova, 44, of St Petersburg, along with unnamed alleged co-conspirators. In a statement, the US Justice Department said Khusyaynova had been engaged in social media activity designed to stir up online arguments and interfere with the political system.
"The conspiracy allegedly used social media and other internet platforms to address a wide variety of topics, including immigration, gun control and the Second Amendment, the Confederate flag, race relations, LGBT issues, the Women's March, and the NFL national anthem debate," the department said in a statement.
Blog by Mike Wendling
Reporting by Marco Silva
Reporting and translation by Olga Robinson, BBC Monitoring
Do you have a story for us? Email BBC Trending.
More from Trending: Bots feed Saudi support after disappearance
Suspected bot accounts are attempting to shape the social media narrative following the disappearance of Saudi journalist Jamal Khashoggi.READ NOW
You can follow BBC Trending on Twitter @BBCtrending, and find us on Facebook. All our stories are at bbc.com/trending.