Russians joke Soyuz rocket 'still heavier than air'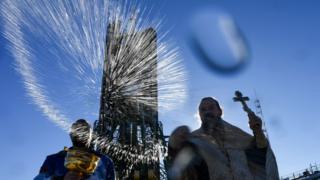 An Orthodox priest who blessed the Russian Soyuz rocket before lift-off has become the main source of mockery on social media after the launch ended in an emergency landing.
The Russian capsule experienced a booster problem which meant the two-man crew's six-month mission to the International Space Station has had to be delayed.
And with the news the crew - Alexey Ovchinin, a Russian cosmonaut, and Nick Hague an American astronaut - are in good health according to officials, attention has somewhat inevitably turned to the more humorous side of the misfire.
Many commentators have poked fun at a traditional blessing ritual performed by an Orthodox priest who sprinkled holy water on the rocket before the launch.
A prominent blogger Ilya Varlamov commented that "the rocket had been blessed before launch, but it was still heavier than the air".
However, some people have playfully blamed the priest himself with @atticus_flinch suggesting "the Soyuz crash was caused by poor quality holy water".
Meanwhile, comedy account Gniloy West wondered whether the priest would be punished for negligence when blessing the rocket.
Some have sarcastically linked the failed launch with the news Ukraine has made progress in trying to make its Orthodox Church independent of Moscow.
And Sasha Severny tweeted that the emergency landing represented "the worst day for the Russian Orthodox Church in the past 300 years!"
---
You may also be interested in: