Syrians horrified by 'crime of no honour' killing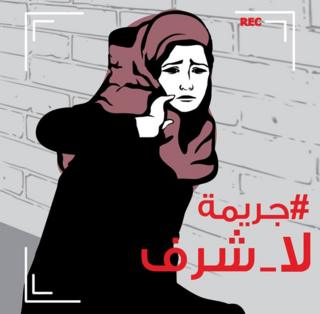 A video documenting the brutal murder of a young woman in Syria has been met with outrage and horror online - and shone a renewed spotlight on so-called "honour killings" in the country.
The young woman, identified by Syrian news outlets and social media users as "Rasha Bseis", was shot repeatedly with an automatic rifle in the rebel-held town of Jarablus, near the Turkish border, by a man reported to be her brother. Some said the young woman was under 18 years of age.
The BBC has not been able to independently verify these reports.
In the video, a young woman cowers against a wall as a man stands over her with a gun. He opens fire, kicking dust up from the floor and wall. A voice in the background yells "wash away your shame".
The video has been widely viewed and shared online. A report on the Lebanese Al-Modon news website said police were investigating and an arrest warrant had been issued for the man.
'Crime of no honour'
Activists responded with a campaign to denounce so-called "honour" violence.
A graphic of the murdered woman looking fearfully into the camera, featuring the caption "crime of no honour", has been circulating online since Monday, BBC Monitoring reported.
Kish Malek (Check Mate), a civil society organisation based in southern Turkey, was among activist groups to publish the image on Facebook.
"A young man from the city of Jarablus has killed his sister after direct instigation by his friend allegedly to 'wash her of shame'," the organisation posted.
"The instigator filmed the crime and published it on social media networks," it added.
Sharing the image, Syrian NGO Women Now for Development issued a statement demanding justice for Rasha Bseis.
"Rasha is not only the victim of the spread of weapons and lapses in security, she is the victim of a dangerous social concept, under the pretext of 'shame washing' as an accepted - and sometimes encouraged - punishment," they wrote.
A copy of their statement would be sent to the local council governing Jarablus and all other concerned legal bodies, the organisation noted.
Syrian writer and women's rights activist Rima Flihan told the BBC there are no accurate statistics for honour killings in Syria but that "Syria and the Middle East had ranked highly in previous global statistics".
"I have worked in successive campaigns since 2005 in Syria to counter what is described as honour crimes," she said.
"The crime is encouraged by a law that is lenient on the murderer and a society which partly reduces a family's honour to a woman's body."
In 2009, Syria scrapped a law limiting or waiving punishment for men convicted of killing female relatives they regarded as having illicit sex.
At the time, Human Rights Watch said the measure did not go far enough. The law introduced a minimum two-year sentence for perpetrators of so-called "honour killings".
You might also be interested in:
Since 2011, cthe conflict in Syria has claimed more than 350,000 lives. Ms Flihan says the chaos in Syria as a result of the war has made the problem of so-called "honour killings" worse.
"The presence of extremist groups in some areas encourages such crimes, and so does the law in others," she said.
"In both cases, the woman is the victim."
However, she told the BBC that the reaction to such crimes shows some positive change.
"I have noticed through monitoring people's comments on these crimes that there is a wider section of society that are rejecting and condemning them," she said.