The 'right to bare arms' in Australia's parliament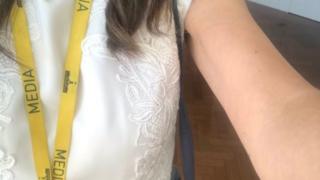 People on social media are showing their support for a female journalist after she revealed that she had been kicked out of Australia's parliament for showing too much flesh.
Patricia Karvelas said she had been told to leave a question time session with politicians because "you can allegedly see too much skin."
The incident has prompted comparisons between her outfit and the clothing choices of MP Julie Bishop, who often opts for short-sleeved or sleeveless dresses during parliamentary sessions.
Now many people are taking to social media in support of the ABC News presenter, with some calling the decision to remove her outrageous and a joke.
Speaking on ABC News Karvelas explained that a "polite" attendant came up to her and said her clothes showed "too much shoulder" and that she "needed to cover up more".
Karvelas contested the request believing her outfit to be in keeping with parliamentary standards.
Right to bare arms
Speaker Tony Smith said at the end of question time that he would investigate the matter.
According to the Parliament of Australia website, standard of dress is a matter of "individual judgement", although the ultimate decision of what is acceptable rests with the speaker.
Such standards "should involve good trousers, a jacket, collar and tie for men and a similar standard of formality for women".
With the guidance being the same for both MPs and the press, many people including political reporter Airlie Walsh have highlighted certain inconsistencies.
It is not the first time the issue has been raised.
MP Adam Bandt tweeted that he had a failed attempt to change the "ridiculous 'bare arms' rule" last year.
And it seems that Karvelas has been ejected on a previous occasion for showing too much shoulder.
This situation has produced strong feelings from those online with one Twitter user calling the decision "degrading, insulting patriarchal sexism" that "demeans" women.
Some women have come out in support of Karvelas by posting pictures of themselves with bare arms.
Elizabeth Saunders feels "lucky" that her bare arms are only involved in teaching and not sat inside a press gallery.
And another Twitter user shared a picture of her bare arm with the hashtag #ShowUsSomeArm, which Karvelas retweeted.
And others have seen the funny side and in a play on words said this situation demonstrates that Australia needs a US-style second amendment - the right to bear arms.
You may also be interested in: