YouTube Rewind 2018 becomes site's second-most disliked video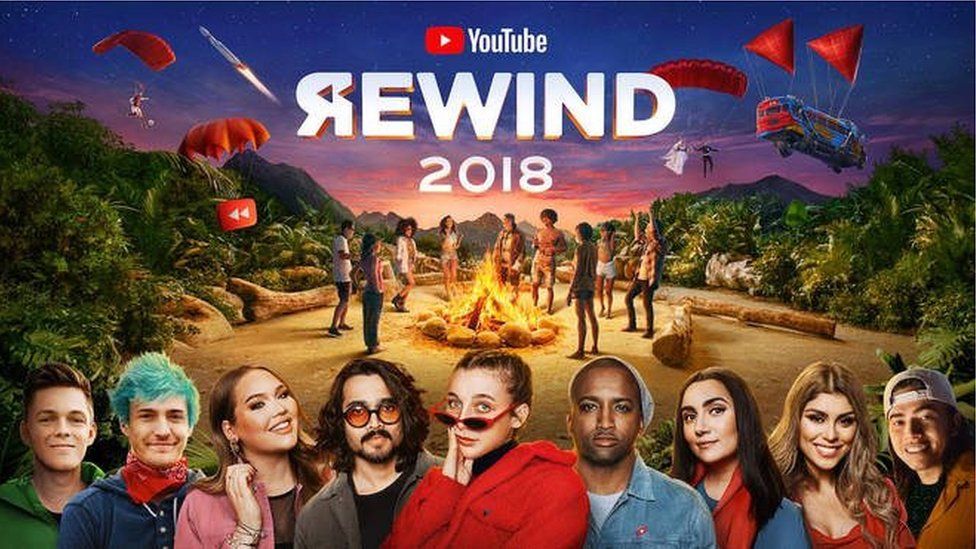 The annual recap touting "the videos, music and trends that defined YouTube in 2018" has become the second-most disliked video in the website's history.
But while Bieber's dislikes came over the past eight years, YouTube was able to reach the milestone in just three days.
So why has the video been so disliked?
Rewind 2018 has come in for criticism for not including some of the site's top stars, including Logan Paul, Shane Dawson and PewDiePie - with the video's comments dominated by people asking where the website's most-subscribed to YouTuber is.
PewDiePie - whose real name is Felix Kjellberg - has released a reaction video in which he criticises the oversaturation of video game Fortnite and inclusion of people that aren't YouTube personalities, such as clips of US talk show hosts Trevor Noah and John Oliver doing Fortnite dances.
He points out that the video does not mention key moments of 2018, such as the outpouring of support on YouTube for those who died this year, including LazyTown's "Robbie Rotten" actor Stefan Karl Stefansson.
"I remember Rewind [used to be] something that seemed like an homage to the creators that year," he says in the video. "It was something cool to be a part of.
"Now it's like I'm almost glad I'm not in it, because it's such a cringey video at this point. It's so disconnected with the community and its creators."
Others on social media shared PewDiePie's views.
list of youtubers that should've been in youtube rewind;
pewdiepie
t series
shane dawson
ksi
logan & jake paul
comedyshortsgamer
joe weller
colleen ballinger
joe sugg
& so so so many more #YouTubeRewind

— paige (@glitternelson) December 6, 2018
But the reaction was not all bad.
Some people came forward to defend the video, with British YouTuber TomSka telling his followers that he liked Rewind 2018.
You know what? I liked this. It knew that it couldn't please everyone and ran with that. It focussed on a small handful of creators, tried it's best to be self aware, didn't push any particular agenda, and didn't overstay it's welcome. I think this was a good one 🤷‍♀️ https://t.co/QWA0L35OC6

— Thomas 'TomSka' Ridgewell (@thetomska) December 6, 2018
You may also be interested in: