Burger King remove 'racist' chopsticks ad
By Kris Bramwell & Kerry Allen
BBC News & BBC Monitoring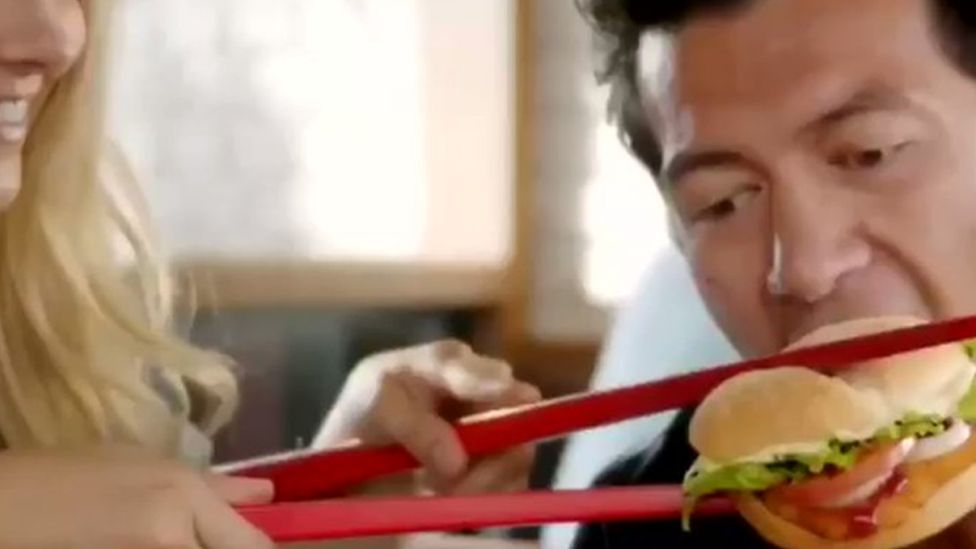 Burger King has removed an advert which shows western people trying to eat a burger with oversized red chopsticks following criticism on social media.
The advert for a new Vietnamese burger in New Zealand has sparked a debate over whether the advert is harmless fun or culturally insensitive and racist.
A clip of the advert posted to Twitter by Maria Mo, a Korean woman living in New Zealand, has been viewed more than 2.9M times.
So this is the new Burger King ad for a "Vietnamese" burger ok coolcoolcoolcoolcool CHOPSTICKS R HILARIOUS right omg etc 🙃🙃🙃🙃🙃🙃 pic.twitter.com/zVD8CN04Wc

— 마리아. Maria. (@mariahmocarey) April 4, 2019
In her subsequent thread she berates Burger King's attempts to make fun of how Asians eat and described the advert as racist.
Twitter user TatianaKing wrote: "I thought brands learned their lesson after the D&G chopsticks fiasco... then again I'm not surprised."
Not all posts are critical, however. "Whatever anyone does, it's discrimination, we're bursting with persecution and paranoia. What can brands do in the future to introduce Asian elements?" asked one user who had sympathy for Burger King.
Another saw the funny side of the advert: "This is just a joke that westerners can't use chopsticks. Why is it only in recent years that we hear that Chinese people feel discriminated against? Am I meant to get angry?"
And others believe those who have been offended by the advert are sensitive and show that people in China have an inferiority complex.
Burger King has now deleted the clip which appeared on their Instagram account for New Zealand and has withdrawn the television advert. A spokesperson said: "The ad in question is insensitive and does not reflect our brand values regarding diversity and inclusion."
You may also be interested in: