Biden inauguration: What are far-right Trump supporters saying?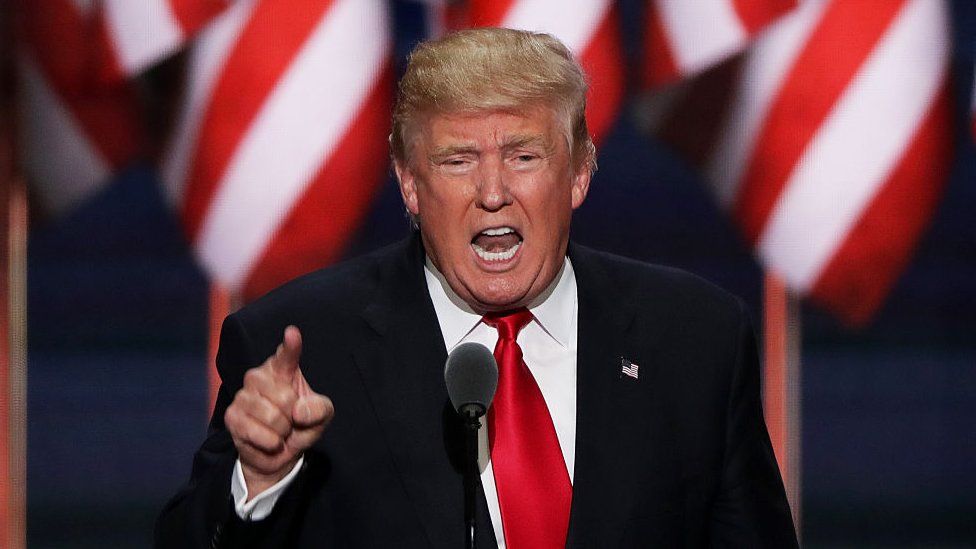 Mass armed protests initially called for by some extreme Trump supporters in the lead-up to inauguration day have so far not materialised, following an apparent change of heart by the groups involved.
One flyer shared on Gab, a Twitter-like platform popular with far-right groups, had called for armed protests in Washington and 50 state capitals ahead of Joe Biden's inauguration. The plans prompted a warning from the FBI.
But in recent days those calls have been reversed and a new theory put forward on fringe platforms - that plans for armed protests were instead a "trap" set up by the FBI, or supporters of the left-wing Antifa or Black Lives Matter (BLM) groups.
Some of these discussions have been happening on less popular and less public online platforms, where many Trump supporters from far-right and conspiracy groups have migrated after being kicked off Facebook and Twitter in the wake of the Capitol riots on 6 January.
The vast majority of armed rallies that were initially being promoted have so far not gone ahead following the warnings.
On Sunday, despite earlier fears of violence, there were only a few armed protesters in front of state capitols in several states, including Michigan and Ohio.
Those who did turn out were not dedicated Trump supporters but mainly members of the extreme libertarian Boogaloo Bois movement, whose followers advocate an armed overthrow of government.
The BBC is not responsible for the content of external sites.
Skip twitter post by Matt Katz
Allow Twitter content?
This article contains content provided by Twitter. We ask for your permission before anything is loaded, as they may be using cookies and other technologies. You may want to read Twitter's cookie policy, external and privacy policy, external before accepting. To view this content choose 'accept and continue'.
The BBC is not responsible for the content of external sites.
End of twitter post by Matt Katz
Despite a continued belief in unsubstantiated claims of election fraud, many of Mr Trump's supporters seem resigned to the reality that Mr Biden will be inaugurated as president on Wednesday. Although some claim they will never accept him as their president.
Alongside the new online warnings to avoid armed protests in Washington DC and elsewhere, there are a few posts by furious supporters of the president calling for "guerrilla warfare".
The lack of armed protests for now could be down to "increased fear about crackdowns by law enforcement following the 6 January," says Alex Newhouse, research lead at the Center on Terrorism, Extremism, and Counterterrorism in the US.
He also warns of a different kind of threat from the Capitol riots:
"The level of desensitisation to concepts like race war, civil war, and political violence that occurs in these chatrooms means that if even a tiny fraction of 1% of followers take it seriously, that could indicate a higher potential of individual acts of extreme violence."
And what about the baseless QAnon conspiracy theory, which has been blamed for radicalising so many and whose members were among those that stormed the Capitol?
QAnon followers remain convinced that somehow Mr Trump, with the help of the military, will successfully overturn the outcome of the election on inauguration day.
They believe Mr Trump will invoke the Insurrection Act, a rarely used 1807 law that allows the president to deploy military forces inside the US.
There is no evidence to suggest this could happen.
Followers of the conspiracy have also been sharing false or doctored images and videos of the fencing around the Capitol building - built to ensure the safety of those attending the inauguration and avoid a repeat of the 6 January riots - with claims the fencing is in fact a military prison which will be used to entrap Mr Biden and members of the so-called "deep state".
There's also an increasing sense of paranoia. Groups on alternative platforms that openly called for violence on 6 January now worry aloud that they have been infiltrated by government agents or left-wing activists.
Owners and moderators of right-wing social media platforms have posted messages asking members not to post incitement to violence.
But violent threats against House speaker Nancy Pelosi, a Democrat, and Republican Vice-President Mike Pence, whom the groups had hoped would overturn the election result, remain widespread.
The move away from mainstream platforms poses a risk, according to Mina al-Lami, jihadism specialist at BBC Monitoring, who sees parallels with Islamist militant groups who have been subject to similar crackdowns.
"Members of the fringe far-right may now slip under the radar into closed spaces which use end-to-end encryption," a very secure method of exchanging messages, she says. "Their radicalisation goes unchecked and unmonitored."
The social media giants acted to remove QAnon groups after the violence in Washington, but they have quickly rebuilt themselves elsewhere.
On Gab, groups dedicated to QAnon now boast more than 500,000 members. A similar new channel on Telegram has more than 100,000 subscribers.
Meanwhile, accounts spreading conspiracy theories and potentially inciting violence have emerged in surprising places. TikTok, the short-form video platform hugely popular among young people, has seen a flood of clips from pro-Trump militia groups.
TikTok videos from militia groups are concerning, says Ciaran O'Connor of the Institute for Strategic Dialogue, a think tank focused on extremism and hate groups.
Users have been sharing footage of members preparing firearms, as well as promoting false claims that President Trump has activated the Insurrection Act.
Extremist supporters have been taking advantage of TikTok's slow moderation process, which means that videos can stay online for long periods of time before they are deleted for violating the network's terms of service, Mr O'Connor says.
Some of the more violent and conspiratorial pro-Trump groups may have been scattered across the internet following purges at mainstream platforms, but that doesn't mean they've gone away.
They realise they're under close scrutiny from the US authorities, but they're preparing to dig in for a long fight.
Votes, viruses, victims: 2020 in disinformation
A special programme from the BBC Trending team.