The women fighting South Africa's 'infodemic'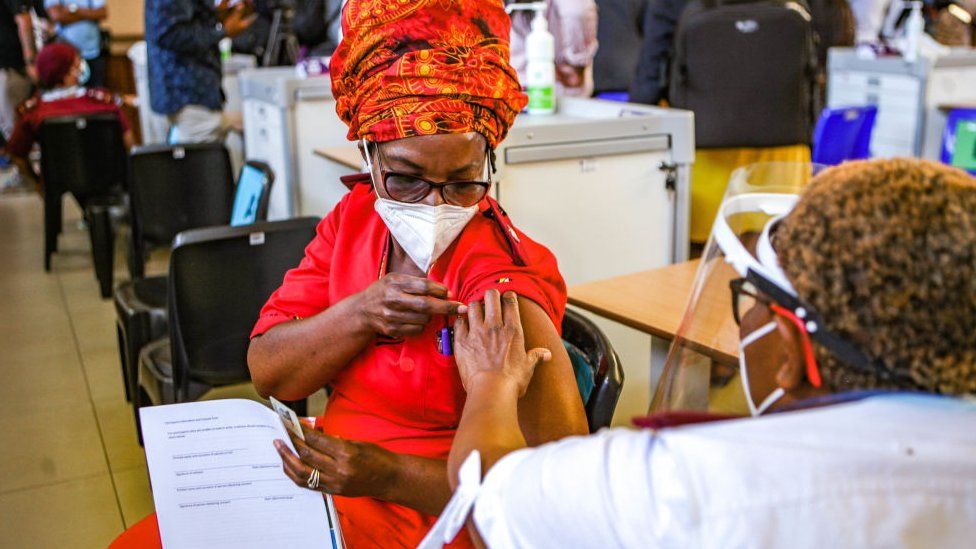 In South Africa, a small group of volunteers is waging an online battle against Covid-19 and vaccine misinformation. Much of it comes from abroad, Jack Goodman reports.
When Sarah Downs tweeted about how her grandmother had died from Covid-19, there was one response she did not expect.
"I had just posted a message on Twitter basically saying my amazing grandma passed away and she meant a lot to me," she says.
"So then I had someone asking me, 'Well, was there an autopsy done? What were the autopsy results? You don't know that she passed away from Covid. She could have passed away from something else.'"
She had run directly into a Covid-19 denier. They're a relatively small but vocal group who have a range of beliefs - but in general, many think coronavirus is a "hoax" or "not real", and are against public health measures and lockdown rules. Right now, one of their main preoccupations is campaigning against vaccines.
But Sarah - studying molecular biology and infectious diseases - was the wrong person to troll.
She spends hours debunking false claims for friends, family and strangers under the alias Mistress of Science. She and others have had their work cut out as medical misinformation has taken hold in South Africa - the country worst hit by the pandemic on the continent.
At the top end of the information pipeline are a relatively small collection of Facebook groups and users, including some that have actively promoted hard-line anti-vaccination content for years.
"We estimate that it's about 20,000 South Africans who are actually active on anti-vax Facebook pages," says Prof Hannelie Meyer, a pharmacist and adviser to the South African Vaccine and Immunisation Centre (Savic).
That's just a fraction of the country's population of 59 million. And most anti-vaccine claims in South Africa actually originate in the United States, according to a 2015 study.
Data about vaccine hesitancy in South Africa is limited, says Prof Meyer, but studies indicate that more wealthy and educated groups - which include people who are more likely to be white - are less willing to get a jab.
South Africa's vaccine rollout, which was delayed because of concerns that the first vaccines available wouldn't work against a new coronavirus variant, is now under way.
Meanwhile the government has run a public campaign to bust prevalent health myths.
A leading virologist has also pushed back against rumours - for instance, that Covid-19 and the vaccines that prevent it are a Western plot to reduce Africa's population and control the continent's natural resources.
But falsehoods have also come from people in positions of authority. South Africa's top judge was criticised after a video showed him linking vaccines to a "Satanic agenda."
Religious scholars have sought to reassure Christians by explaining relevant excerpts of religious text. In a live-streamed address, Bishop Malusi Mpumlwana debunked another false conspiracy theory - that 5G is linked to the virus - after officials said masts had been burned down at the beginning of this year in KwaZulu-Natal province.
Battling false information
South Africa has been battling the same fake scientific theories that have been spreading elsewhere.
And, like in other countries, Facebook groups have been a hotbed of anti-vaccine sentiment.
One of the most prominent groups - 10,000 strong - seeks to spread "awareness" about vaccines. In reality, the hard-line anti-vaccine outlook of members is very clear. The majority of the posts in the group ridicule or dismiss vaccines.
One video posted in the group - originally aired on an evangelical US Christian television programme - suggested getting a jab could lead to "a lifetime of illness".
The woman that runs the group, Christine Hewlett, sells immune system boosting supplements in an online shop along with a book about raising "vaccine-free" children.
We repeatedly asked Christine Hewlett for comment, but she didn't respond.
We also contacted Facebook, which says it's looking into the groups we found. A spokesperson pointed out that the social network "has already connected two billion people to reliable information from health experts."
As unverified information flooded social media throughout the course of the pandemic, Sarah Downs stepped in to help answer questions.
One of those she helped was swimming teacher Sheona Lottering.
"I had a friend that forwarded me a German article," Sheona says. "She was trying to convince me that death was one of the side-effects [of a Covid-19 vaccination].
"And I was a little bit freaked out about that."
Through an exchange of voice notes, Sarah explained the nuance of an adverse event - like a sudden sickness or even death - following someone's vaccination. These incidents are recorded, but it doesn't necessarily mean vaccines were the cause.
Now Sheona is regularly in touch with Sarah about tricky vaccine-related questions.
And some South African volunteers have gone a little deeper into the battle against disinformation.
"The claims are so bizarre I could hardly believe there are people believing these things," says Lisa - not her real name because she fears an online backlash.
Lisa spends hours lurking in Facebook groups. Her aim is simple: guide people towards trusted sources of health information.
"I don't like misinformation, so when I see something, I just try to correct it," she says.
She's been doing that in one form or another for well over a decade, so she's seen communities grow and has become familiar with their tactics.
Young mothers in particular are targeted in Facebook groups, she says, where posts are coordinated to try and convince them not to vaccinate their children.
That's when Lisa springs into action. She keeps her inbox open and believes gentle communication works best - asking about people's concerns rather than shouting statistics at them.
But Sarah, Lisa and other volunteers we spoke to risk exposing themselves to online abuse, and the prospects of persuasion can often seem slim. It's difficult, pro-health work - that isn't paid. So do they judge success?
"I think if I can just help one person be a little bit less terrified... that's what I aim to get out of it," Sarah says. "And if they're willing to take the vaccine, even more so."