France's Baupin sexual harassment case leaves bitter taste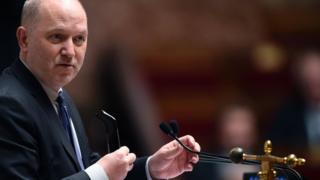 Hard not to feel depressed and disenchanted by the allegations of sexual harassment now swirling around Denis Baupin, the deputy speaker of the French assembly who resigned on Monday.
Depressed because it appears to be proof once again of the sexual arrogance of so many French males, especially in politics. If you thought that Dominique Strauss-Kahn, the Socialist presidential hopeful brought down by a string of sex scandals, represented a dying breed, then you may have to think again.
Disenchanted because, whatever the facts in the case, there are serious questions about how and why the affair has suddenly come to light.
The French Greens, or to give their full name Europe Ecologie Les Verts (EELV), are a party divided on just about every issue that affects them.
---
Allegations against Denis Baupin
'Sexual harassment' politician quits in France
---
Read full article France's Baupin sexual harassment case leaves bitter taste