Festive reindeer for rent at Russian zoo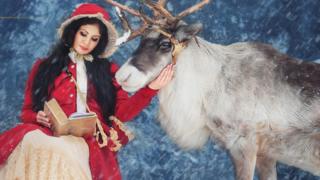 A Russian zoo is renting out reindeer, foxes and huskies to local people to enhance their Christmas and New Year celebrations.
Royev Ruchei in the Siberian city of Krasnoyarsk is one of the biggest zoos in Russia, and its new Animals at Home service means "some zoo residents can be brought along for photo opportunities or children's parties, anywhere in the city," local Channel 7 TV reports.
The zoo says the reindeer are in particularly high demand, and are most often loaned out to accompany Grandfather Frost - Russia's answer to Santa - on his visits to children. Krasnoyarsk freezes hard at this time of year, so a snowy background is pretty much guaranteed.
You might also be interested in:
All the animals are specially prepared for their outings, and there is no risk to the public, the zoo insists.