Turkish teacher goes door to door for pandemic pupils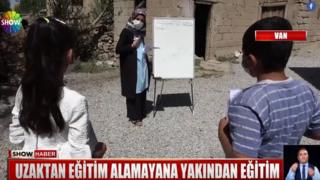 When teacher Gamze Arslan realised her students in Turkey's eastern Van province could not attend online classes because of the Covid-19 pandemic, she began to visit them at home instead.
''We have the internet at our school, but it's hard to teach because families don't have access to it at home,'' she told the Haberturk news channel.
''So now I teach by going door-to-door with a whiteboard,'' said Ms Arslan, who works in Van's Tusba district, where there are dozens of villages.
She returns the following day with new tasks and to make sure homework has been done, while maintaining social distancing and reminding her charges how to observe hygiene.
See also:
Read full article Turkish teacher goes door to door for pandemic pupils