Russian post offices raise funds with beer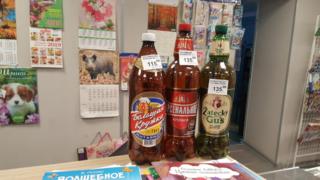 Russia's beleaguered mail service plans to keep local post offices open by letting them sell beer.
Among the first to notice the new goods on sale was a caller to a post office in Murmansk Region, in the far north of the country.
"It looked like Russian Post couldn't sink any lower, but it turns out they could," he complained, taking to the VKontakte social media platform with photos of beer stacked up for sale at the counter.
This left only one cashier position free, which was "already witnessing an involved discussion about bed linen. So now we can expect the local winos to hold things up even more," he lamented about the bottles, priced at up to 135 roubles ($2; £1.60) a piece.
'Kebabs too?'
Comments on the VKontakte page also mix exasperation with humour, while some comfort themselves with the thought that at least they "won't get bored in the queue anymore".
Read full article Russian post offices raise funds with beer