Newspaper headlines: Cipriani's Caroline Flack tribute and schools' debt 'crisis'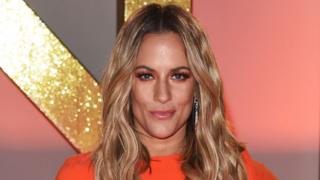 Saturday's mix of front pages includes Caroline Flack's ex-boyfriend's tribute to the TV presenter, after she was found dead in her London home last weekend.
The Daily Mirror says rugby union star, Danny Cipriani, fought back tears in an emotional video and revealed the "kind and loving" Love Island host had helped him to deal with his own mental trauma.
In an 18-minute clip posted to Instagram, Cipriani says he confided in Ms Flack about trying to buy a gun so that he could take his own life. That line makes the Daily Star's lead.
The Guardian focuses on Cipriani's pledge to release a voice message he received from Ms Flack.
The "shocking" extent of fragile finances in schools across the country makes the front page of the i. The paper says "damning" Ofsted research suggests 28% of council-run secondary schools are in debt while staff members are struggling with 70-hour weeks.
Read full article Newspaper headlines: Cipriani's Caroline Flack tribute and schools' debt 'crisis'