Planespotters greet executives at Farnborough air show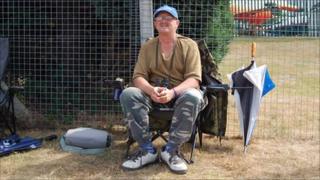 The planespotters have been out in force for more than a week ahead of the Farnborough air show.
"It's like fishing," says Graham Nash from his comfortable deck chair. "Most of us come to every air show and we've become very good buddies over the years.
Much of the same atmosphere can be felt next door at the luxurious Aviator hotel where rather more well-heeled plane spotters, who sales director Elise Roberts describes as"aviation enthusiasts", rub shoulders with aerospace executives who have flown in from all over the world.
There is a fresh sense of optimism here as the cocktail parties and flying displays get underway and as the aircraft makers and airlines get ready to announce new deals after a torrid couple of years.
"For both our segments - business and commercial aircraft - we're starting to see signs of recovery," Guy Hachey, president and chief operating officer of the Canadian plane maker Bombardier Aerospace, tells BBC News.
"We're optimistic that Farnborough will show that."
Damien Lasou, aerospace analyst with consultancy Accenture, agrees.
"I expect to see the confirmation that the industry is back in growth mode," he says.
"Optimism is back."
More flights
Airlines are getting ready for an "upcycle in the market", agrees Randy Tinseth, Boeing Commercial Airplane's marketing chief.
"We see 2010 as a year where we're going to see a recovery in passenger traffic. We're going to see a strong recovery in the economy," he tells BBC News.
"That means by 2011 airlines will return to profitability."
The world's leading plane makers predict that demand for aircraft will grow dramatically over the next few years.
Airbus predicts that air travel will double over the next 15 years and continue to grow beyond that, hence over the next three decades more than 1,200 aircraft will be sold each year.
Boeing agrees, predicting that the global fleet of aircraft is expected to almost double from just under 19,000 aircraft currently to more than 36,000 aircraft in 2029.
Spending cuts
But if commercial aviation is picking up, the opposite seems to be the case for the defence industry.
Amidst fears of a double-dip recession and with spending cuts being the buzzphrase whenever government ministers across the world open their mouths, defence companies fear for the future.
"There is only one thing on everyone's lips and it's 'cuts'," says industry veteran Howard Wheeldon from the brokers BGC Partners.
In the US, the Obama-administration is expected to rein in defence spending after a period of rapid growth since the 911-attacks in 2001, according to Robert Feldmann from Boeing's airborne battle management division.
"I think we'll see a drop in real terms," he tells BBC News. "When you look at the percentage of GDP spent on defence, you realise it is difficult to maintain it at this level."
The same is true in the UK and the rest of Europe, reasons Jonathan Wood from consultants Control Risks.
"In the short term, defence is an obvious area to cut," he says.
"It doesn't have the same political dangers as cutting social spending."
Keen to impress
Executives in the highly cyclical aerospace and defence industry are not put off by the odd boom and bust, however, and they are far from throwing in the towel.
On the airfield outside the Aviator hotel, rows of vast corproate chalets are being constructed by companies that remain as eager as ever to display their wares and impress their clients.
"Every time you blink and open your eyes, the landscape has changed," says Ms Roberts as she surveys the preparations.
"This is still key to their business development strategy," she says.
"Only these days they are under more pressure to justify the money they're spending."